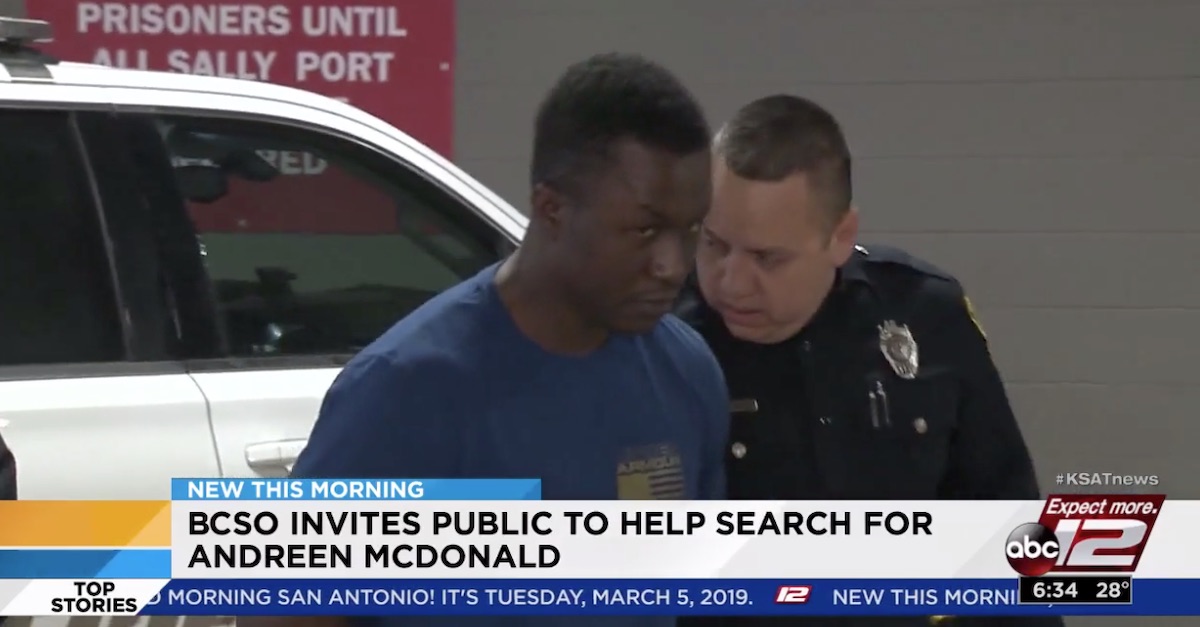 Texas woman Andreen McDonald, 29, disappeared on Friday, March 1, and hasn't been seen since. Between then and now, McDonald's 40-year-old Air Force major husband has been arrested as the prime suspect in her presumed murder.
Andre McDonald, an active-duty Air Force major in a cyberwarfare unit at Joint Base San Antonio-Lackland, is under arrest. It's still early in the investigation, but police believed they had enough evidence to charge McDonald in his wife's disappearance. He was indicted Sunday for allegedly tampering with or fabricating evidence.
The Day Andreen Disappeared
Andreen didn't show up for work or go to the gym as expected on Friday, causing two women she was "very close" with to suspect that something was wrong. They went to the home Andreen shared with her husband and 6-year-old child. The child has autism. When there was no answer of the door, Andreen's friends took matters into their own hands. They entered the residence through an unlocked backdoor and discovered what appeared to them to be a crime scene.
In the bathroom, they found blood stains on a light switch. They observed that there was a burn pile in the backyard, and blood and hair in the master bedroom. None of Andreen's belongings (purse, ID, etc.) were missing, and her car was in the garage. According to the San Antonio Express-News, the two individuals called police to the scene, but not before at least one of them attempted to get answers out of Andre McDonald to no avail. Although there was some question about whether these friends had lawfully entered the residence, police said that they themselves followed protocol.
The Day After Andreen Disappeared
On Saturday, March 2, police followed Andre McDonald to a gun store. There, McDonald purchased a gun and ammunition. Police said they "intercepted" McDonald "as he was leaving the gun shop."
"At some point there it looked like he got spooked, so much so that he left his gun and his identification behind at the gun shop," Bexar County Sheriff Javier Salazar said.
Police had already searched McDonald's home once before, but on Saturday, Salazar's office executed a second search warrant at his house and found "a shovel, an ax, some heavy duty trash bags, some work gloves, two five-gallon containers of gasoline and a burn pit, or burn barrel," Salazar said.
Concurrently, police were able to get a search warrant for his home. A deputy had observed through a window that a shovel was in the house that was not there earlier. After executing the warrant, police allegedly found torn up receipts that revealed the purchase of numerous items consistent with making a person disappear.
The items included: heavy duty plastic bags, two gas cans that could hold a combined 10 gallons, a shovel, an axe, a "burn barrel" and large plastic bags. Police also said they found a new fire pit, where they surmised McDonald destroyed evidence.
What Witnesses and Police Said
The two witnesses who initially worried for Andreen's well-being told police that their friend said if she ever disappeared it would be because her husband killed her.
"The first witness said that the Missing Person (Andreen McDonald) told her many times if she ever went missing it would be because the Suspect killed her," the affidavit said, the San Antonio Express-News reported. The witnesses said they knew Andreen's routine and expected to see her, which explained why they were so worried.
Andreen's mother Hyacinth Smith has resigned herself to the outcome of this case.
"They haven't found the body, but if they find the body, she's not going to be alive," she told KSAT12. One of the witnesses drove Smith to the scene and she walked a deputy identified as F. Gonzalez through the master bedroom, where blood and hair was discovered.
Quite shockingly, Sheriff Salazar said authorities have reason to believe the couple's 6-year-old daughter, who has autism and is mostly non-verbal, witnessed the crime.
"To us, it's pretty evident that she saw something. She saw what happened to her mom," Salazar said. Salazar said he believes Andreen is no longer alive and that the things police found at the scene were "really quite disturbing."
A manager at Starlight Homes Assisted Living, a business Andreen owned, said she believed that Andreen was abused. Judee Lorenzana recalled Andreen coming to work with "something like a scratch on her face" a month ago. Lorenzana recalled her saying, "It's Andre."
What the Suspect Said and Did
Andre McDonald was described as being uninterested in helping police find his missing wife. After his arrest, he said,  "I love my daughter, I love my family, that's it." Police said that McDonald also lied about his wife's whereabouts when he was initially detained for questioning. He said Andreen was at Baptist Emergency Hospital for treatment. Police said they called the hospital and the hospital said Andreen was not there.
Police also said McDonald did admit that he had an argument with his wife. Authorities believe Andreen is dead; they are still searching for her body.
McDonald is being held at the Bexar County Jail on $2 million bail.
[Image via KSAT12 screengrab]
Have a tip we should know? [email protected]