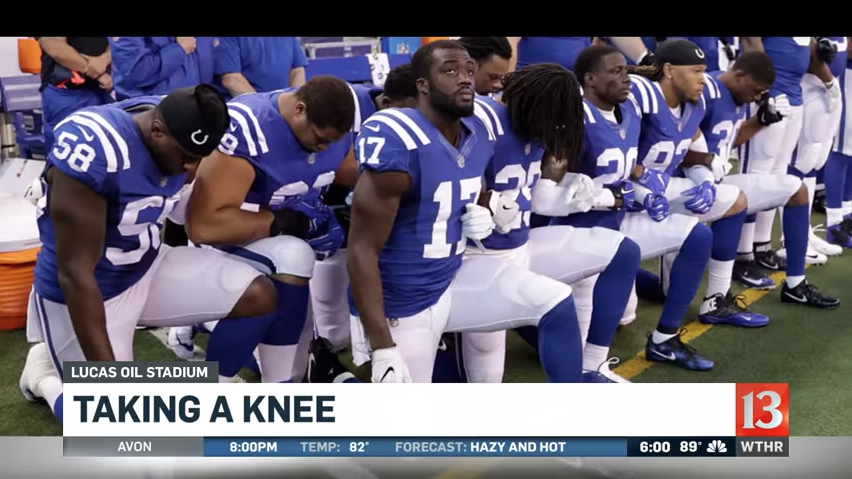 A proposed law in Indiana would force the Indianapolis Colts organization to offer refunds to fans upset by players kneeling during the national anthem.
The bill was introduced by Republican Rep. Milo Smith of Columbus. Smith claims his bill is intended to lift up the voices of fans who feel disrespected by players protesting police brutality and racism.
Under Smith's plan, Colts fans would receive face-value ticket refunds for games in which players decide to kneel. Per the parameters of Smith's proposed legislation, during any game or event in which a Colts player kneels, fans would have until the end of the first quarter to request a refund. If such a refund was requested and received, that upset fan would then have to leave the game.
Smith spoke with the Indianapolis Star, describing his personal journey from offended fan to author of reactive legislation to make up for that offense. While discussing how he was personally put off by one such #TakeAKnee protest on September 24, Smith said:
I'm pretty patriotic, and it didn't sit right with me…To me when they take a knee during the national anthem, it's not respecting the national anthem or our country. Our government isn't perfect, but it's still the best country in the world and I think we need to be respectful of it.
Jane Henegar, the executive director of the Indiana branch of the American Civil Liberties Union, chastised the novel concept, saying it would likely run afoul of the First Amendment. She said:
In effect by passing the law, government would be weighing in…and fining political speech by the Indianapolis Colts. It seems like the worst thing that could happen is government weighing in and trying to control in any direction the political speech of private actors.
Smith is optimistic about the bill's chances during next year's legislative session. He told local ABC affiliate WRTV-6 that if successful in his quest to get refunds for triggered football fans at NFL games, he'd look into expanding the policy for paid-admission college and high school football games as well.
[image via screengrab/WTHR]
Follow Colin Kalmbacher on Twitter: @colinkalmbacher
Have a tip we should know? [email protected]