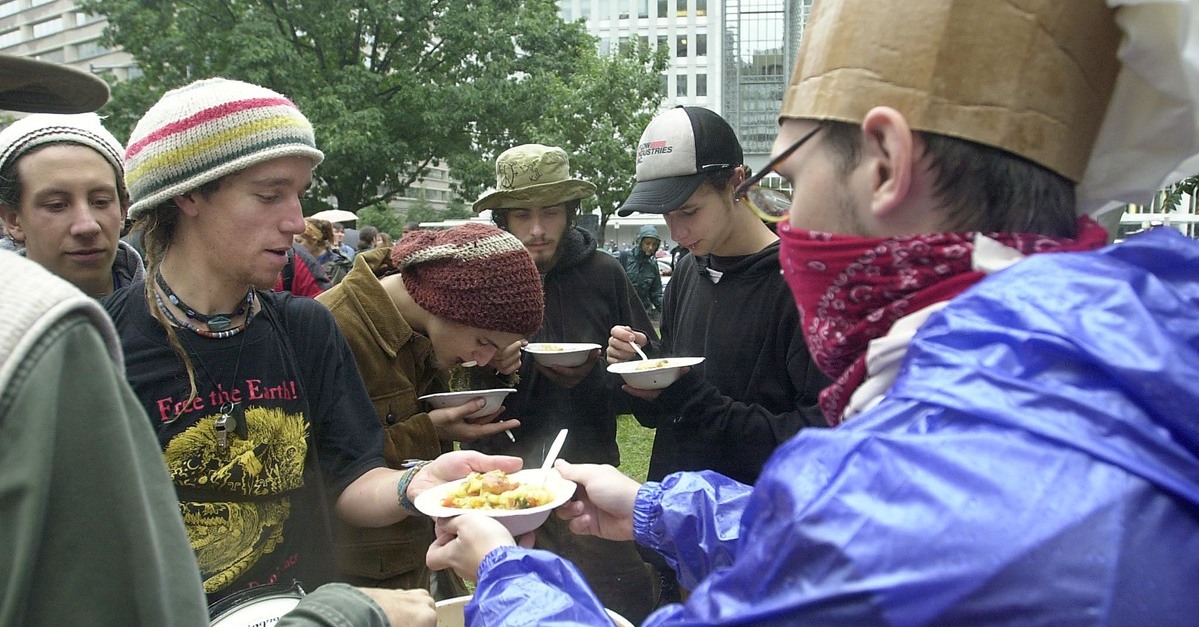 A federal court ruled on Tuesday that feeding the homeless may qualify as "expressive conduct protected by the First Amendment."
In a 20-page opinion, U.S. Circuit Judge Adalberto Jordan made reference to Lady Macbeth, the Boston Tea Party and Jesus of Nazareth in what is likely the first step toward dismantling myriad ordinances criminalizing food-based outreach throughout the country.
Brought by Food Not Bombs, a loose-knit network of collectives operating under the same ideological banner, a lawsuit was filed in 2015 in response to Fort Lauderdale's 2014 ordinance which bans sharing food in public parks unless the would-be food-sharers obtain a "conditional use permit" from the city.
Complicating the provision of such permits are various city regulations which encapsulate so-called "social services facilities" and any "outdoor food distribution center," which is defined as "[a]ny location or site temporarily used to furnish meals to members of the public without cost or at a very low cost as a social service…"
The initial lawsuit was dismissed by a federal district court one year later on the basis that Food Not Bombs' food sharing events fell outside the scope of the First Amendment because they failed to convey a "particularized message." Food Not Bombs appealed the earlier rulings against them and Judge Jordan ruled in their favor, noting:
[Food Not Bombs] does not serve food as a charity, but rather to communicate its message "that [ ] society can end hunger and poverty if we redirect our collective resources from the military and war and that food is a human right, not a privilege, which society has a responsibility to provide for all."
Jordan's decision makes clear that Food Not Bombs' provision of food to the homeless qualifies as expressive political conduct. The opinion continues, "Providing food in a visible public space, and partaking in meals that are shared with others, is an act of political solidarity meant to convey the organization's message."
The opinion also sets the scene a bit. Judge Jordan describes the park used by the group in question and their activities, even citing the plaintiffs' take on Fort Lauderdale's general attitude toward the homeless:
[Food Not Bombs] conducts weekly food sharing events at Stranahan Park, located in downtown Fort Lauderdale. Stranahan Park, an undisputed public forum, is known in the community as a location where the homeless tend to congregate and, according to FLFNB, "has traditionally been a battleground over the City's attempts to reduce the visibility of homelessness." At these events, FLFNB distributes vegetarian or vegan food, free of charge, to anyone who chooses to participate.
And, as mentioned, the decision leans in a bit on the rhetoric in an effort to support the judge's decision. He writes, "[T]he significance of sharing meals with others dates back millennia. The Bible recounts that Jesus shared meals with tax collectors and sinners to demonstrate that they were not outcasts in his eyes."
Aside from an apparently sympathetic read on Food Not Bombs' constitutionally-protected activity, Judge Jordan also bolsters his First Amendment jurisprudence by referencing the proud American tradition of protest. The judge notes:
History may have been quite different had the Boston Tea Party been viewed as mere dislike for a certain brew and not a political protest against the taxation of the American colonies without representation.
The case is now on remand to the lower courts who must determine–in light of Judge Jordan's finding that the plaintiffs' conduct is protected by the First Amendment–whether the statute in question is constitutionally vague or overbroad.
[image via JOYCE NALTCHAYAN/AFP/Getty Images]
Follow Colin Kalmbacher on Twitter: @colinkalmbacher
Have a tip we should know? [email protected]