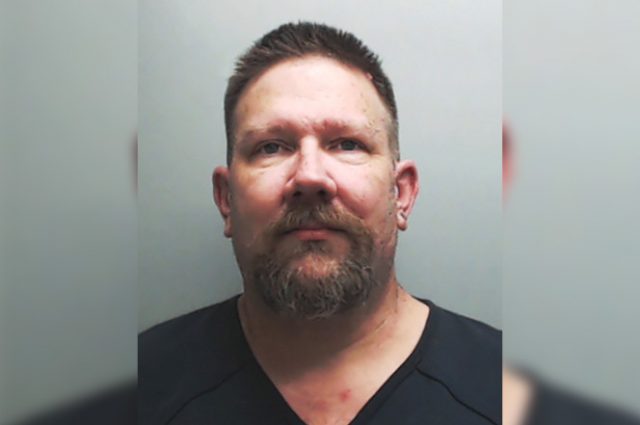 A man in Texas was recently sentenced to 1,011 years in prison after being convicted of sexually abusing two girls for years on end.
Robert Benjamin Franks, a 48-year-old from the Austin suburb of San Marcos, was convicted on November 27 of 17 counts of continuous sexual abuse, aggravated sexual of a child, and indecency with a child.
Jurors deliberated for a little over two hours and returned to the courtroom to hand down the record-breaking sentence.
Here's how the sentence breaks down: (1) Franks was given two life sentences on both continuous sexual abuse verdicts; (2) he was also given 99 years for each of the nine counts of aggravated sexual assault; and (3) the sentence was rounded out with 20 years for each of the six counts of indecency with a child.
Additionally, the jury determined that Franks was to pay $120,000 worth of fines.
All of Franks' sentences are to be served consecutively, Judge Jack Robison ruled, meaning that Franks is all but certain to die in prison.
Hays County District Wes Mau said, in a statement:
Words cannot really express the depth of the betrayal and outrage warranted by conduct like this, committed by a man who should have been caring for and protecting these children. The jury's sentence speaks more eloquently than I can to make clear how our community feels about crimes like these.
Franks' extremely lengthy sentence is the second such epic slate of years handed down in recent weeks, suggesting a new trend in punishing those convicted of sexual abuse.
The head of a child sex ring in Colorado was sentenced to 472 years in prison earlier this month–and at the time his punishment was the lengthiest such sentence given out for such crimes.
Less than a week later, a jury put a criminal justice spin on the Lone Star State's unofficial motto: even record-setting sentencing is bigger in Texas.
[image via Hays County Sheriff's Office]
Follow Colin Kalmbacher on Twitter: @colinkalmbacher
Have a tip we should know? [email protected]