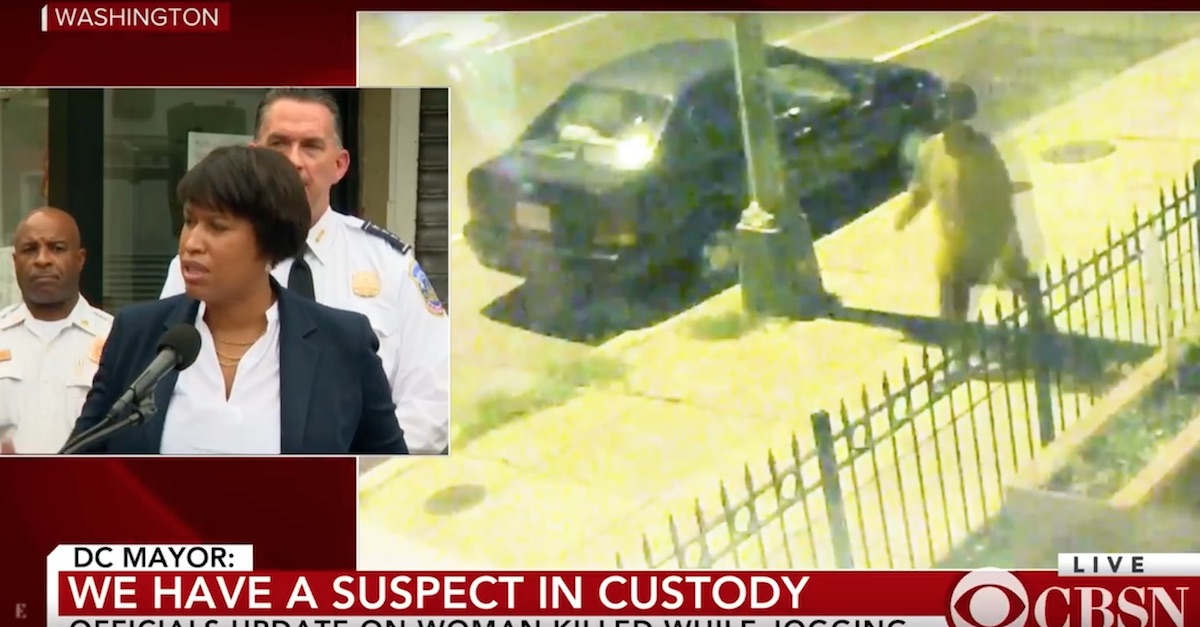 Police have announced that they have made an arrest after a 35-year-old woman out jogging Tuesday night in Washington, D.C. was brutally stabbed at "random."
BREAKING: 23 year old Anthony Crawford of NW DC charged w/ 1st degree murder for killing 35 year old jogger Wendy Martinez Tuesday night.

— Adrianna Hopkins (@AdriannaHopkins) September 20, 2018
#BREAKING: DC police announce 23-year-old Anthony Crawford has been charged with first-degree murder in the stabbing death of 35-year-old Wendy Martinez in Logan Circle https://t.co/3hDKmrDfsR pic.twitter.com/M5DYevHj1J

— FOX 5 DC (@fox5dc) September 20, 2018
Anthony Crawford, 23, has been charged with first-degree murder, locals news outlets report.
Chilling videos circulating online show Wendy Karina Martinez's last moments alive. One of the videos showed her jogging along in Logan Circle.
35 year old Wendy Martinez seconds before she was fatally stabbed. Recently engaged killed apparently in a random attack. Tonight Logan Circle Residents on edge police in hunt for killer. @ABC7News pic.twitter.com/eP51JAu0wO

— Stephen Tschida (@ABC7Stephen) September 19, 2018
Another video, although blurred, showed her stumbling into a Chinese restaurant. Martinez was taken to a hospital, but she could not be saved.
Police said Martinez was stabbed in the neck multiple times and that the attack appears random.
"It is more likely a random act than anything else, but we're going to look at all possibilities," D.C. Police Chief Peter Newsham said.
According to ABC 7, Martinez was chief of staff at a company called FiscalNote. The company called her an "invaluable member of our team and a vibrant member of the community."
The entire FiscalNote family is shocked and deeply saddened to learn that Wendy Martinez, our Chief of Staff, was killed last night. Wendy was an invaluable member of our team and a vibrant member of the community. Our thoughts and prayers are with Wendy's family and friends.

— FiscalNote (@FiscalNote) September 19, 2018
Martinez had just gotten engaged one week ago to Daniel Hincapie.
Martinez's family members said they are "deeply saddened by this senseless tragedy."
"Wendy Karina Martinez was the light of our lives," they said. "Not only was she an avid runner, but she was a devout Christian, a wonderful friend, and a driven professional. Everything you hope that a daughter and a friend could be."
#BREAKING: A family spokesperson confirms police told them they arrested a suspect in the murder of Wendy Martinezhttps://t.co/5rn6vkN0ia pic.twitter.com/EKZEhnuaam

— ABC 7 News – WJLA (@ABC7News) September 20, 2018
Police had initially identified the suspect as wearing a mustard-yellow shirt and flip flops.
Sources tell me suspect arrested for murder of #WendyMartinez is 23 year old Anthony Crawford, no fixed address. Charged with Murder 1. ⁦@fox5dc⁩ pic.twitter.com/lguG2ooqPA

— Melanie Alnwick (@fox5melanie) September 20, 2018
[Image via CBS screengrab]
Have a tip we should know? [email protected]