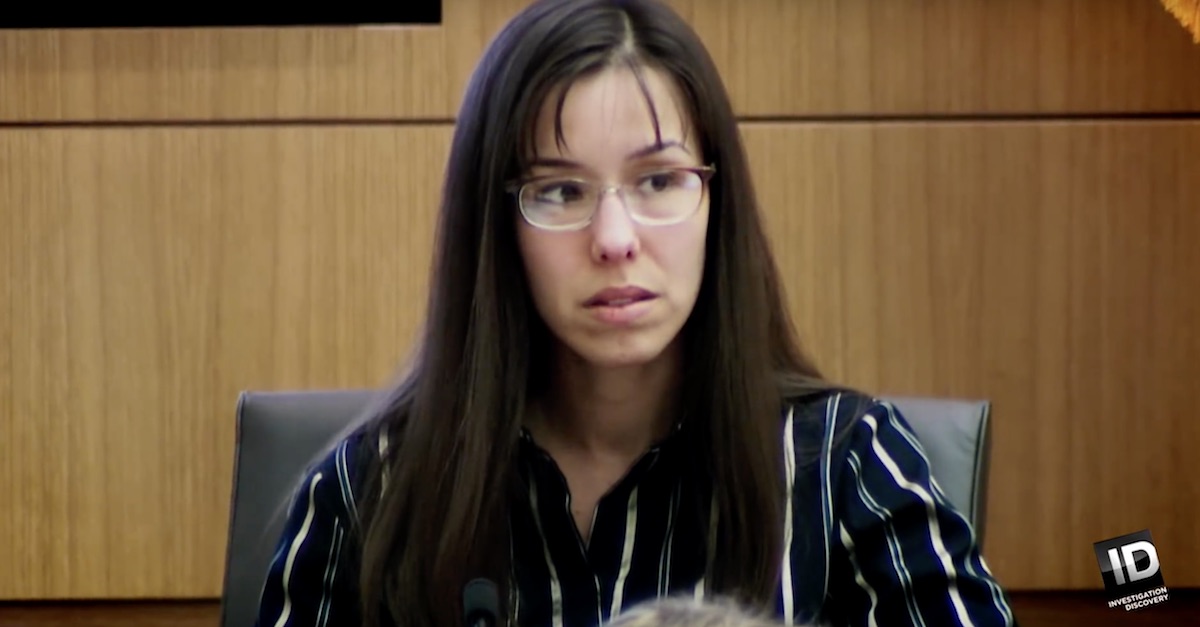 Former prosecutor Nancy Grace reacted on her SiriusXM podcast Crime Stories to convicted killer Jodi Arias blaming her fate on Grace's coverage of the case.
Arias, who most recently attempted (without success) to file an appeal of her conviction without the public being able to see it, was found guilty in 2013 of murdering her boyfriend Travis Alexander back in 2008 by slitting his throat from ear to ear.
Since it was decided that Arias didn't show that the full release of her appeal would lead to a specific harm, we now know the details of a massive 342-page filing, ABC 15 reported. It was in this appeal that Grace's name came up.
Here was the relevant portion of Arias' appeal blaming Dr. Drew, HLN and Nancy Grace for turning the trial into "reality TV" and influencing the jury:
The nightly commentary on Dr. Drew, HLN or Nancy Grace gave the trial a reality TV flavor, encouraging spectators to believe that their opinions could influence the verdict. The spectators believed that their opinions mattered. Perhaps they believed they could call or text in a vote at trial's end. Maybe they wanted to vote Arias 'off of the island.' The court had a duty to protect Arias' trial from negative news exposure.
Grace responded to this accusation with four reasons Arias was dead wrong, as Radar Online noted.
"First, to suggest the jurors did not head the warnings of the court to refrain from looking at news coverage of the trial impinges perjury on all jurors. That is a very serious allegation," Grace began. "Second, Jodi Arias' miscalculation in testifying was a major contributor to her guilty verdict. Her demeanor, her facts, her behavior and her callous disregard for Travis Alexander's reputation were offensive."
"Third, the crime scene photos alone were devastating to her case. Her digital camera found in Travis' laundry at the murder scene, full of photos taken during the murder in itself is overwhelming evidence of guilty. Beyond a reasonable doubt," she continued. "Fourth and last, Arias' attempts to blame everyone around her, including her lawyers, the jury, the judge the prosecutor, the media, the logistics of my broadcast, me personally, and most important Travis Alexander is just more of the same. As always, Arias blames everyone but herself for her predicament."
In summary, Grace said that Arias was the author of her own destruction in court.
You can listen to the podcast in full below.
[Image via Investigation Discovery/YouTube screengrab]
Have a tip we should know? [email protected]