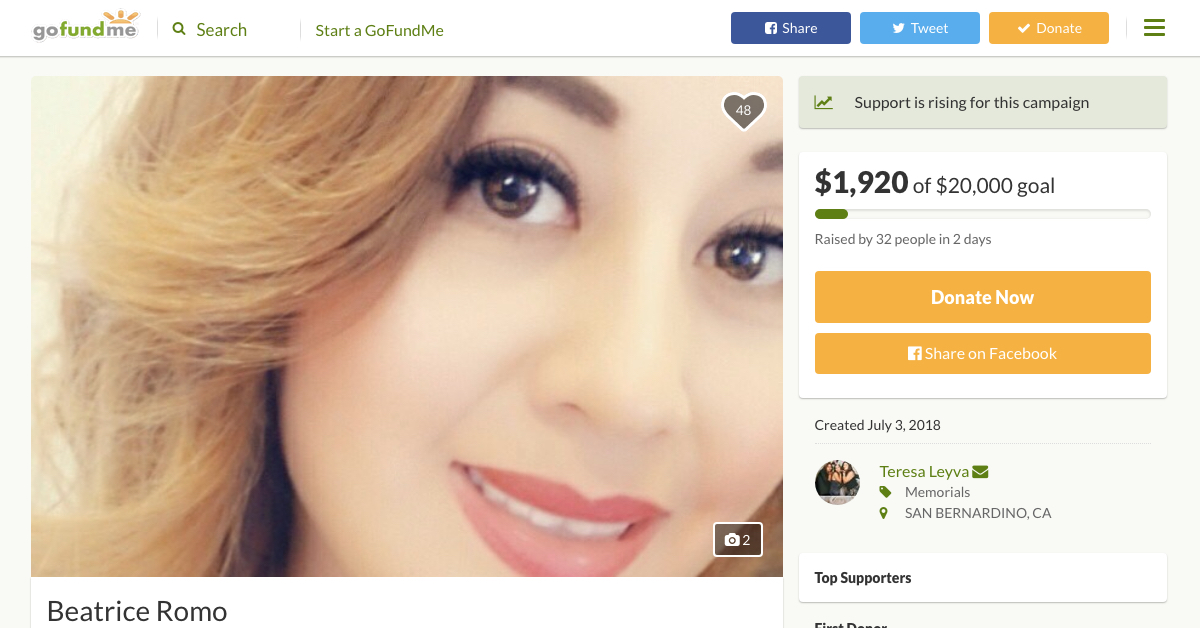 A 39-year-old mother of five attempted to break up a fight between two men at her niece's baby shower. Instead, she was shot by her own nephew, according to police in Riverside, California.
Beatrice Romo later died from a wound to her stomach after being rushed to a nearby hospital, according to the Sacramento Bee.
Joshua Romo told the local NBC affiliate that he tried to drag his mother to safety, but by then it was already too late. He said:
I just heard a shot and see my mom fall to the floor. I was just telling her I love her…she was getting so pale. She just told me she was going to be okay on the gurney going into the ambulance.
Her husband Ronnie Romero, 42, eulogized his wife in comments to The Riverside Press-Enterprise.
"My wife was loving, giving, awesome, amazing, beautiful, sexy," he said. "My wife was the woman men dream of, bro." Mr. Romero, a musician, had left the baby shower just prior to the shooting in order to work at another event.
Beatrice herself was a professional property manager and had spent the day before the baby shower decorating cakes, according to her husband. Her daughter Daisy Romo told KNBC it was hard to believe her death came at the hands of a family member.
"I'm never going to forgive him for taking my mom away," she said.
According to the Press-Enterprise, police arrested 37-year-old David Bonilla, Romo's nephew, on suspicion of murder, attempted murder, and being a felon in possession of a firearm. He's currently being held on $1 million bail.
Now Beatrice is being hailed as a hero for trying to stop the fight that claimed her life at the Riverside Elk's Lodge on Saturday night. Daisy described the shock and chaos after the shots were fired.
"After the gunshots, everyone was like, 'It's Bea! It's Bea! Bea got hurt!'" she recalled.
A GoFundMe set up by her family makes a somber plea:
Hello Everyone, we all wish in our hearts this wasn't true, But with heavy hearts we ask for your support. On June 30th, Saturday evening we lost a dear Friend, Mother, Daughter, and loving Wife, Beatrice (Girl) Romo, she touched so many of us with her kindness and beautiful spirit. She was an innocent bystander caught up in something that should of never happened. Thank you for your support and prayers.
Joshua Romo spoke with the local CBS affiliate about the final moments of his mother's life.
"I just told her I loved her and that's it," he said through tears. "I felt like she was in so much pain."
Where long term plans and happiness once seemed a given, there's suddenly an enormous sense of uncertainty and doubt.
I thought I was going to grow old with my wife," Ronnie Romo said. "That was my goal. She was so loving and beautiful."
[image via screengrab]
Follow Colin Kalmbacher on Twitter: @colinkalmbacher
Have a tip we should know? [email protected]