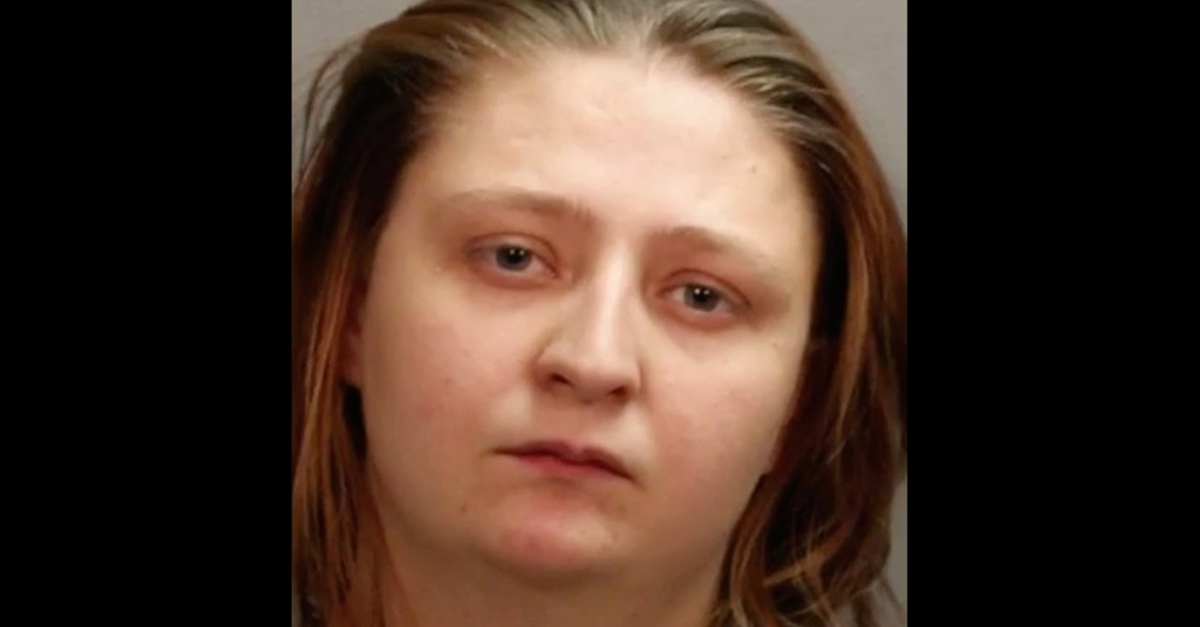 A Florida woman took advantage of a legally blind former schoolmate, and lured her into being sexually assaulted and forced into prostitution, according to the Jacksonville Sheriff's Office. Angel Williams, 22, is being held on over $2.3 million at a Duval County jail.
The survivor posted to Facebook that she needed a job, according to an arrest report obtained by Law&Crime. In comes Williams. They knew each other in high school. Apparently, the suspect hooked up the woman with a job to babysit children, but it was a trick, investigators said. The victim arrived at a home on August 9, and was told the kids wouldn't be arriving for an hour. Then a man identified as "Ricky" (co-defendant Ricardo Guillen, 27) blocked the door, and said they wanted to have "fun" with the woman, according to the arrest report.
Another unknown man held "what felt like a knife" to her throat, the victim told deputies. She was sexually assaulted for several hours while zip-tied, she said in the report. Williams was there the whole time, the woman said. The suspects took pictures of the victim, and talked about a particular website, the survivor claimed.
After the rape, Williams' "baby daddy" Antonio Williams, 44, allegedly drove the blind woman back home, searched her residence, and threatened her and her family.
According to the arrest report, Angel Williams played the leading role in forcing the woman into sex. She allegedly threatened the victim over the phone, and told her not to tell anyone about the sexual assaults. On August 11, she went as far as to allegedly go to the blind classmate's home, and forced her to put her hand in a purse, according to the report. The victim felt a gun, deputies said.
Williams allegedly told her she was going to "work" for her, and drove her to a hotel room where she was zip-tied. Another co-defendant Daniel Davis III, 46, sexually assaulted the victim, deputies said. The victim recalled losing losing consciousness, but recalled that Williams was sitting on her chest while Davis forced her to drink alcohol. He allegedly paid Williams in exchange for the intercourse with the victim.
Again, on August 12, Williams took the woman to a hotel room, deputies said, where the woman was allegedly sexually assaulted by Ty Canaday, 49. She tried to escape and resist, but he allegedly threatened to hurt her. In the end, he and Williams got into an argument over the price, according to the report.
Deputies said they were able to corroborate details in the blind woman's story. They tracked down the site mentioned during her alleged sexual assault on August 9, and noted that it was connected with escort and prostitution ads. Investigators found an account featuring pictures of the victim, as well as Angel Williams' phone number, said the arrest report. The clothes in those photos matched what the woman described wearing in the August 9 incident.
Investigators claimed they were also able to find hotel records showing that Canaday paid for a hotel room, with Williams being the second occupant. Staff even remembered seeing the both of them get into an altercation. And yes, staff were able to identify the both of them, deputies said.
Angel Williams, Antonio Williams, Davis, and Guillen were assigned public defenders. Canaday has no attorney of record, but the Duval County docket notes show he has "has hired, or plans to hire a private attorney." He could not be reached for comment. The Jacksonville public defenders office did not immediately answer a Law&Crime request for comment Sunday morning.
The defendants were each booked into jail between August 23 and 26. They are still locked up.
Canaday, Davis, and Guillen were each charged with sexual battery and false imprisonment. Antonio Williams was booked as an accessory after the fact, and also accused of tampering with a victim.
Angel Williams must contend with a small laundry list of counts: kidnapping with a weapon, coercing commercial sex activity for human trafficking, sexual battery with threats of injury, false imprisonment, lewd or lascivious molestation of an elderly person or disabled adult, and tempering with a victim.
[Image via Jacksonville Sheriff's Office]
Have a tip we should know? [email protected]