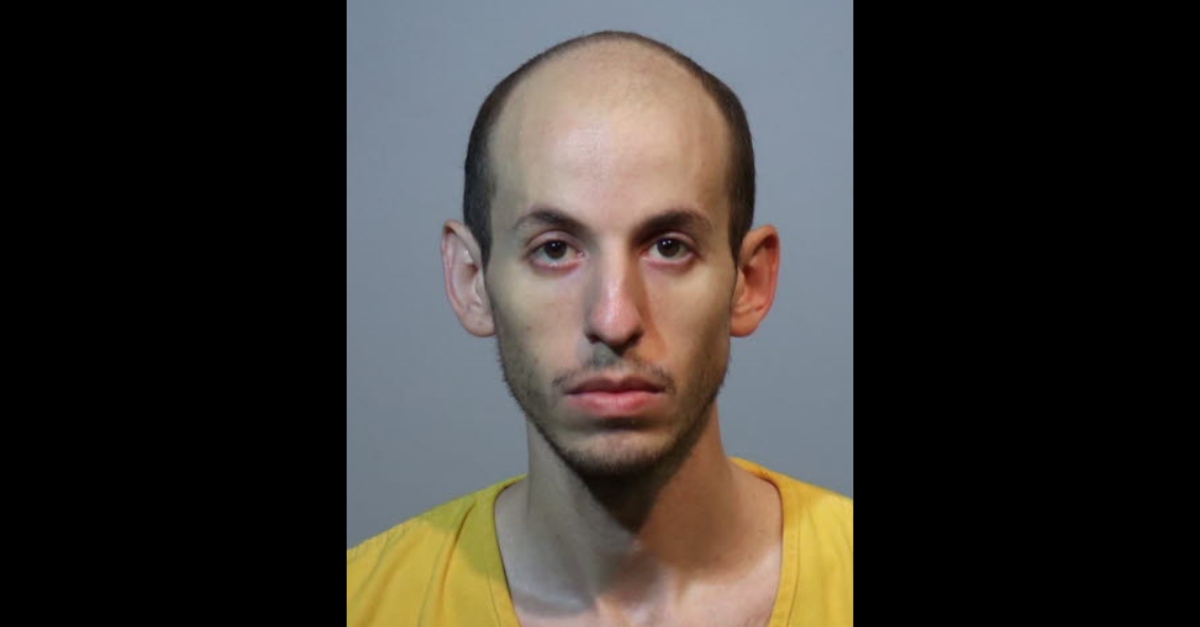 Grant Tiernan Amato, 29, killed his parents and brother over an expensive obsession with a Bulgarian online call girl, say deputies in Seminole County, Florida. He allegedly told investigators the woman was his girlfriend, and that his father kicked him out of the home over the "relationship."
The investigation started Friday when one of the victims, 31-year-old Cody Amato, didn't show up to work at Advent Hospital East Orlando, according to the arrest affidavit obtained by Law&Crime. Amato's girlfriend and a co-worker called deputies for a welfare check. Investigators checked out his home, only to find him and his parents, 59-year-old Chad Amato and 61-year-old Margaret Amato, dead. The mother and father were shot execution-style. There were no signs of forced entry or theft.
Grant Amato and his Honda Accord weren't at the scene, but Cody's girlfriend told investigators the family was having trouble with him. The suspect stole $60,000 from her boyfriend and sold his guns, the woman said. According to her, Cody voiced concern that Grant would [in the words of the affidavit] "kill everyone."
The girlfriend said that problems with Grant started when he was kicked out of nurse anesthetist school. On top of that, family members had learned he was stealing money–about $200,000–to fund a relationship with a woman from Bulgaria. Investigators learned more when they interviewed a third Amato brother. This relative said he wasn't close with his family, but spoke with his mother about once a week. According to him, Grant had been talking to an online call girl from Bulgaria, had been wiring her a lot of money, and even told her the family address.
This brother added that Grant stole $150,000 from their father. This included a $65,000 loan on their house, he said. The suspect allegedly stole $50,000 from his brother Cody.
Investigators said they found suspect Amato at a hotel. He went to the sheriff's office for an interview. According to the affidavit, he said he met a cam girl online and sent her about $200,000. This caused problems with his family. His father laid down an ultimatum: take a 60-day internet and sex addiction rehab program, or leave the home. He did, but only from December 22, 2018, to January 4, 2019. In any case, the Amatos let Grant stay at the home, provided he follow certain rules. One of those rules was to stop communicating with the cam girl. Grant said this was unfair because he believed the woman was his girlfriend, according to the affidavit. They were in a relationship.
Grant said he used to Twitter to keep communicating with her, but the father learned about it, and kicked him out of the house Thursday night. The suspect said he left the residence at between 9:00 p.m. and 9:30 p.m., though investigators pressed him on apparent inconsistencies to whether he last saw his brother Cody outside, or inside the home.
Grant allegedly said he returned to the neighborhood the next day to go to the house, but changed his mind at the last minute. Investigators asked if he saw anything out of the ordinary. He said no, but investigators pressed him, and he admitted to seeing a cop car and news van at the entrance of his home. They asked why he didn't try to get in touch with his family. He had no answer, deputies said. The suspect allegedly claimed that he later went to a Panera Bread, used the Wi-Fi, and found an online story about a shooting in the neighborhood. It appeared to depict his family's home. Again, investigators asked why didn't try to contact his relatives.
"I just didn't want to know," he said.
Though he acknowledged having the motive and opportunity for murder, Amato never admitted to the crimes, authorities said.
From the affidavit:
Towards the end of the interview, while viewing crime scene photos of his dead family members, GRANT AMATO was asked if he had any remorse for the killings of his mother, father and brother. GRANT AMATO's response was his family had been blaming him for months for ruining their lives, stealing and not following the rules of the home, so he might as well be blamed for this too.
Records name no attorney of record at this time. A first appearance in court is scheduled for 2 p.m. in Sanford, Florida. Amato is held without bond on three counts of first-degree murder.
[Mugshot via Seminole County Sheriff's Office]
Have a tip we should know? [email protected]