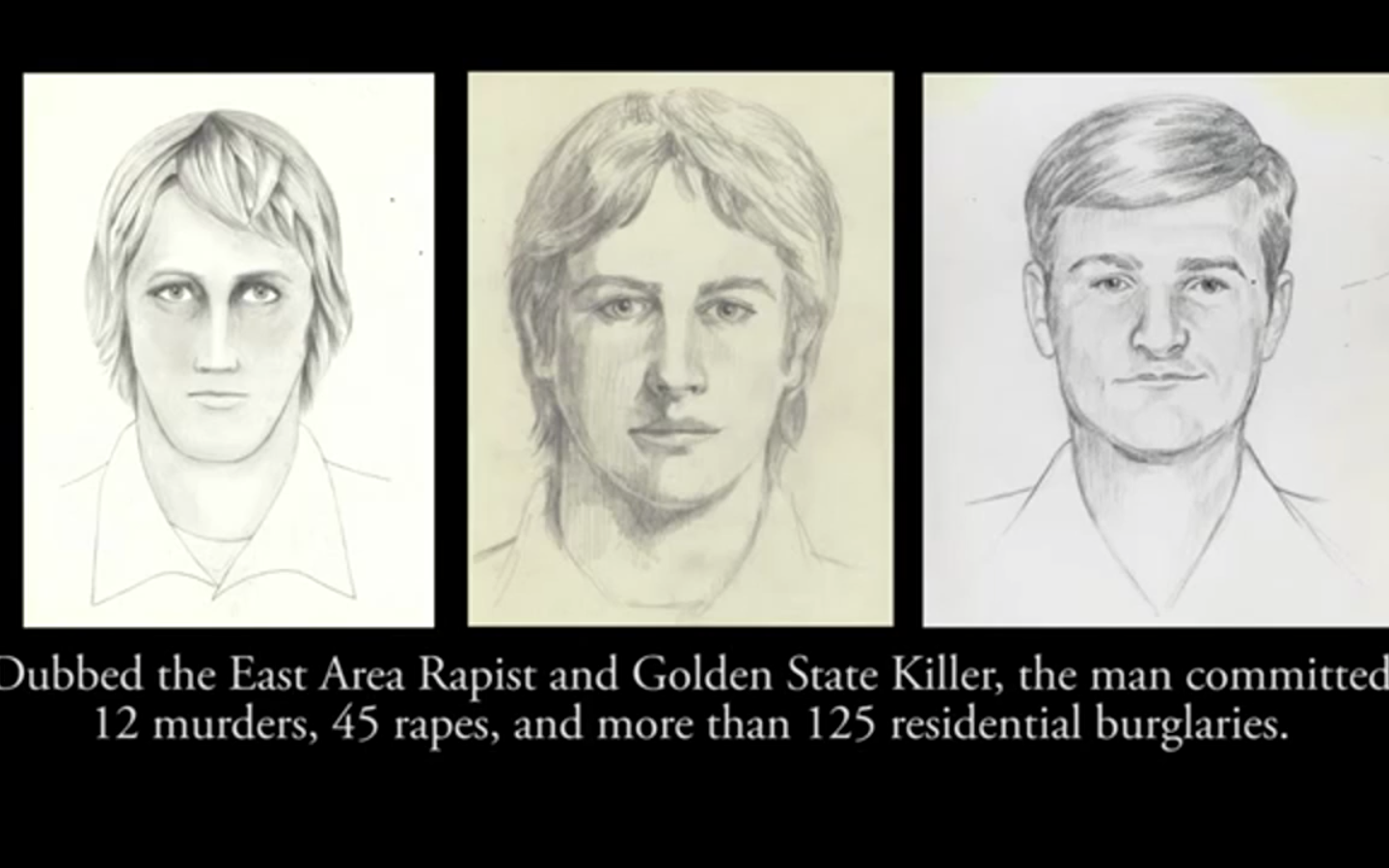 The Golden State Killer may now be in custody after decades of eluding law enforcement, and all indications suggest the killer is a former member of law enforcement.
Suspected of at least 13 murders, in excess of 50 rapes, and over 120 burglaries–including various incidents of peeping, prowling and stalking–authorities in Sacramento have finally apprehended their suspect and announced a press conference set for noon Wednesday to discuss their findings.
Per the Sacramento Bee, a 72-year-old man named Joseph James DeAngelo was arrested on two murder charges early Wednesday morning by the Sacramento County Sheriff's Department on a warrant originally issued by police in Ventura County.
Meanwhile, a local Fox affiliate has announced that the Sacramento County Sheriff's Department has made a "significant break" in the case.
According to one of the leading researchers into the long-elusive killer, DeAngelo is believed to be connected to the case–but offered a bit of caution. Writer Billy Jensen told The Daily Beast that DeAngelo was not "confirmed" to be the killer, but that it currently "looks good."
Jane Carson-Sandler was sexually assaulted at knifepoint by a man believed to be the Golden State Killer in 1976. In comments to The Island Packet, she said, "I just found out this morning. I'm overwhelmed with joy. I've been crying, sobbing. I just can't tell you how I feel. After 42 years — wow!" Carson-Sandler did note, however, that she didn't recognize the man arrested.
Jensen later tweeted about the suspect in question, noting that DeAngelo had once been arrested for shoplifting dog repellent and a hammer in Sacramento while he was a member of the Auburn Police Department. DeAngelo was later fired over the shoplifting incident and apparently did not contest the department's personnel decision. Jensen noted that DeAngelo "Just took his punishment and left the force so no one would look deeper."
Dive association. Dog repellant. Hammer. And refuses a hearing after shoplifting charge. Just took his punishment and left the force so no one would look deeper. #GoldenStateKiller #michellemcnamara #IllBeGoneInTheDark #stepintothelight pic.twitter.com/TSqmFwtZb9

— Billy Jensen (@Billyjensen) April 25, 2018
A young photograph of DeAngelo was tweeted out by the Criminology Podcast and retweeted by Jensen:
If this is him, that's enough time to lose the baby fat in his face. https://t.co/986J5qwbVi

— Billy Jensen (@Billyjensen) April 25, 2018
According to the FBI, the Golden State Killer–also known as the East Area Rapist–is suspected of committing hundreds of crimes over the course of a decade. Authorities say the killer/rapist/burglar's geographic reach initially spanned most, if not all, of Northern California–including Sacramento County–until 1979, when he moved on to commit a slate of 12 murders in Southern California.
The Golden State Killer's first crimes are believed to be a a series of 50 or more rapes beginning in 1976 in Carmichael, Citrus Heights, and Rancho Cordova. What authorities believe was his final crime–the rape and murder of 18-year-old Janelle Lisa Cruz–occurred in 1986 in Irvine.
[image via screengrab/Federal Bureau of Investigation]
Follow Colin Kalmbacher on Twitter: @colinkalmbacher
Have a tip we should know? [email protected]