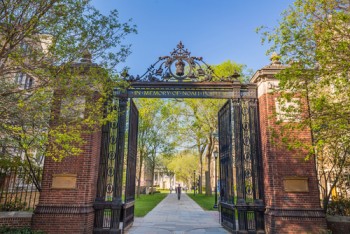 University President Peter Salovey on Wednesday announced that Yale would drop the use of the term "master," a title given to faculty members that serve as leaders in university's residential college housing system.  However, the university also rejected calls to drop the name of a slaveowner from one of its residential colleges.
According to the Washington Post, the debate over the term "master" started last fall when Stephen Davis, a religious studies professor at Yale's Pierson College, sent out an e-mail to his students saying he no longer wished to be referred to as "master."
"I think there should be no context in our society or in our university in which an African-American student, professor, or staff member — or any person, for that matter — should be asked to call anyone 'master,'" Davis wrote in his e-mail.
In his announcement on Wednesday, President Salovey reportedly acknowledged that the term "master" is simply an honorific title borrowed from Oxford and Cambridge and derived from the Latin word magister.  However, he said the decision was made to eliminate the term because the American perception of the word "carries a painful and unwelcome connotation" linking it slavery.
While the university got rid of the "master" title, it decided against stripping the name of John C. Calhoun from the university's Calhoun College.  Student activists called for Calhoun's name to be removed from the college due to his views on slavery.  President Salovey, however, wrote that the name change proposal was rejected in order to force the Yale community "to learn anew and confront the most disturbing aspects of Yale's and out nations past."
This decision did not sit well with Yale sophomore Elisa Ceballo-Countryman who lives in the Calhoun Residential College.
"What I'm feeling right now is a deep state of mourning," she told the Washington Post. "After they made students of color sit through a year of discussions, opening up about deep racial pain, they say we can't change it. There's no other way for me to interact with this university any more other than to be apathetic."
Ceballo-Countryman, described by the Post as a Black-Latina, told the newspaper that she hopes to move to a different residential hall because sleeping at Calhoun "has becoming increasingly violent" for her.
[image via shutterstock]
Have a tip we should know? [email protected]