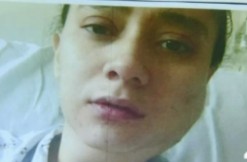 Krystal Ortiz is suing Uber after one of their drivers allegedly beat her up early New Year's Day. The attack was reportedly savage, with Ortiz having cuts on her knee, and an utterly shattered jaw. This is not how ride-sharing is supposed to work.
The 29-year-old said she had been drinking at a party in Hollywood, and found a driver through Uber so she wouldn't have to drive home drunk.
But then her driver allegedly snapped for no reason over a conversation she was having with another passenger. That's when she started recording this all with her cellphone:
"Do me a favor," the driver said on the footage. "I'm going to ask you one more time to get out of this car. And if I have to go over there and drag you out the car and put you on that sidewalk—"
He reportedly smashed her phone, and punched her in the face several times, knocking her to the curb. Ortiz said she spent days in the hospital getting reconstructive surgery.
"No one should have to go through what I did," Ortiz said in a statement.
An Uber spokesman told NBC4 that the company responded quickly to the allegations. They permanently kicked out the driver, and they're cooperating with the Los Angeles Police Department.
The LAPD is still reviewing the case, but they actually said the driver accused Ortiz of battery. Against him.
[h/t NBC4 in LA]
–
>> Follow Alberto Luperon on Twitter (@Alberto Luperon)
Have a tip we should know? [email protected]