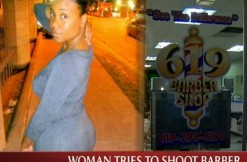 If you're reading this, you've definitely had at least one bad visit to a barber or salon. That's just facts. The barber was too rough with the clipper. The stylist gave you the wrong shade of purple. They cut your hair too short. That kind of thing. But I doubt many of you became so mad you pulled a gun. That's what 29-year-old Adrian Blanche Swain is accused of doing.
Wednesday, she dropped by the 619 Barber Shop for a haircut. Her barber, Manny Montero told NBC San Diego she was so glad about the results, she gave him $20 tip. A totally normally, totally regular incident. Then she came back an hour later.
"She said, 'Look what you did to my hair,'" Montero said. "She came in with a bald spot on the side, and I am like, 'I didn't do that.'"
You've read the headline. You can guess this is when she reportedly pulled the gun, according to police.  Click, the gun malfunctioned. Click, the second attempt to shoot didn't work, either. Click. She reportedly tried to shoot three times, and the gun just jammed on her. Way to go, bad craftsmanship.
That was that. "Grabbed her arm, grabbed the gun," Montero said. "We threw her to the floor and held her until authorities came."
You can see NBC San Diego's coverage here:
Another barber, Chris Tatum, guessed aloud to NBC San Diego that Swain could've shot three, maybe four people in the shop.
The San Diego Police Department is still looking into this.
[h/t NBC San Diego]
–
Follow Alberto Luperon on Twitter (@Alberto Luperon)
Have a tip we should know? [email protected]