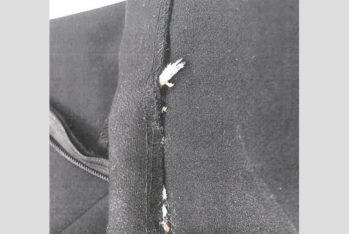 A New York woman has filed a lawsuit after allegedly finding a rather disgusting surprise inside a dress she purchased this summer at the retail fashion store Zara.
The New York Post obtained a copy of a lawsuit filed by Cailey Fiesel that claims she purchased a faulty dress from Zara back in July.
When she wore the dress to work a few weeks later, Fiesel claims she first noticed a "disturbingly pungent odor."  She then alleges she started to notice "what felt like a loose string from her dress rubbing against her leg."
When she reached down to grab for what she thought was a string, she apparently got the surprise of her life.
"To her utter shock and disbelief, as she ran her hand over the hem of the dress she felt an unusual bulge and suddenly realized that it was not a string that was rubbing against her leg, but was instead a leg rubbing against her leg," the lawsuit states.
The other "leg" the lawsuit refers to belonged to a dead rodent that was allegedly sewn inside the hem of the dress.
The lawsuit seeks unspecified damages for Fiesel's claims of emotional distress and for treatment of a large rash that her doctor allegedly linked to "rodent born disease."
UPDATE:
A spokesperson for Zara USA issued the following statement to LawNewz.com:
Zara USA is aware of the allegation and we are investigating the matter further. The brand has stringent quality controls and health and safety standards worldwide that are followed and met in manufacturing, including stitching and pressing. We are committed to ensuring that all of our products meet these rigorous requirements.
[image via court filing]
Have a tip we should know? [email protected]