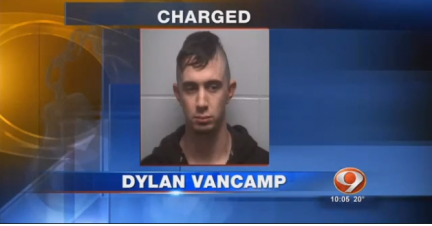 A Wisconsin man is accused of waterboarding his girlfriend during an argument.  Dylan VanCamp, 22, is charged with six felonies—including three counts of strangulation and suffocation— for the waterboarding incident and other alleged abuse, including punching, kicking, choking and threatening to pull his girlfriend's teeth out with pliers.
The victim claims Vancamp held her down, covered her mouth with a wash cloth and poured three cups of water on her face, according to a police report. The victim told investigators she experienced a "hard time breathing and felt as if she was drowning," a filed criminal complaint indicates.
After the 22-year-old caught his girlfriend speaking to another man on her computer, VanCamp pulled the unidentified woman out of a shower and proceeded to partake in "waterboarding torture." VanCamp, taking a page from Hollywood waterboarding depictions, attempted to elicit information from his girlfriend about whether she cheated on him.
Waterboarding is a torture technique that simulates drowning: water is poured over a cloth covering an immobilized individual's face. The effects of waterboarding are as striking as they are disconcerting: dry drowning, lung damage, brain damage from oxygen deprivation, worsening psychological damage and death due to sudden, inflicted vomiting. Further, waterboarding is widely considered to be a vile, detestable form of torture by legal experts, politicians, war veterans—including Senator John McCain—military judges, intelligence officials and human rights organizations.
VanCamp is due in court on March 16, according to online court records.
[h/t WAOW]
[Screengrab via WAOW]
Have a tip we should know? [email protected]