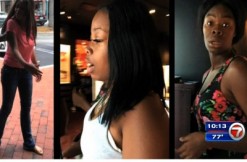 It's another Florida story!
Five women in Miami Lakes allegedly shoplifted from a Victoria's Secret, and beat up an employee on their way out. It happened Tuesday morning, according to a WSVN report…something like this was bound to happen somewhere.
According to police in Miami-Dade county, the poor employee confronted one of the women who was about to walk out. In response, the suspect allegedly pulled her hair, and four other dames joined in on the beat down, hitting the victim in the face.
Surveillance footage being what it is, video of the incident isn't too crisp. But the employee took cell phone pictures of three of the alleged assailants, and shared them with investigators. Those images are plenty vivid.
You can see it all right here:
Oh, and one of the women allegedly returned to the store to hit the employee one more time.
Miami-Dade police are still looking for the suspects, and want anyone with information to call Crime Stoppers at 305-471-TIPS. Tipsters can be anonymous, and may get a $1,000 reward.
It's still early in the investigation, so charges are pending.
–
Follow Alberto Luperon on Twitter (@Alberto Luperon)
Have a tip we should know? [email protected]