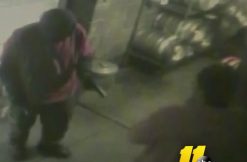 Brenda Harvey works at a Cleveland Draft House down in Johnson County, North Carolina, but when she showed up to work early Wednesday morning, she was ambushed by someone she'd never seen before. A masked man, armed with a gun and knife, surprised her after she entered the back door.
"He said something, but he didn't say, 'Open the door,' or didn't say, 'Give me your money,'" Harvey told ABC 11, still shaken from the incident. "I don't know what he said because I just reacted."
She fought.
"I kind of grabbed the gun—his wrist where the gun was in—then I grabbed the knife and then we got to tussling," she said. The man escaped, leaving Harvey with a cut from the blade.
"I could have been dead," she said. "That's what goes through my mind."
Harvey's manager told the outlet that they're working to better secure the back door. As for Harvey, she finished her shift anyway to spend time with her coworkers.
"It's just sad that people have to do that, to hard working people," Harvey said. "Why would you do that to an older person?"
Johnson's County sheriff's deputies are still looking for the suspect.
[Screengrab via ABC 11]
–
Follow Alberto on Twitter (@Alberto Luperon)
Have a tip we should know? [email protected]