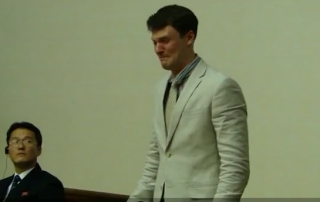 A University of Virginia student arrested in North Korea in January appeared Monday in a mysterious video where he apologizes for his actions. Otto Warmbier, 21, was on a tour when he allegedly stole a sign bearing a political statement from the Yanggakdo International Hotel in Pyongyang.
The video, Warmbier's first appearance since his January 2 arrest, was recorded by North Korean state media and sent to CNN by a contact the network has in the country. According to CNN, North Korean officials claim Warmbier requested to hold the conference, although he appears to be reciting a statement from written notes. North Korean guards accompanied Warmbier into the room, but he was not restrained.
The circumstances behind the alleged theft are hazy. North Korea accused Warmbier with meeting with a member of the Friendship United Methodist Church in Wyoming, Ohio last year. They allege that the church offered him a used car worth $10,000 if he successfully returned with the sign, and if he was captured, his family would receive $200,000, according to the New York Daily News. A representative from the church told CNN that none of this was true, and that Warmbier is not even a member.
North Korea also claims that the Z Society, a University of Virginia secret club, offered Warmbier membership if he completed the task. A member of the Z Society, a charitable organization, told CNN that they have never been in touch with Warmbier, and dismissed North Korean claims that the group has ties to the CIA.
Making matters more confusing, while North Korea accuses both the church and the Z Society for influencing Warmbier, the statement he made implicates the U.S. government itself. "I never, never should have allowed myself to be lured by the United States administration to commit a crime in this country," Warmbier said. "I wish that the United States administration never manipulate people like myself in the future to commit crimes against foreign countries." It is unknown whether Warmbier made his statement under duress.
[h/t NY Daily News, screengrab via CNN]
Have a tip we should know? [email protected]