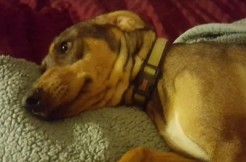 A couple in Richardson, Texas claims someone killed their dog over their pro-Hillary Clinton sign. We know politics gets ugly, but jeez.
Matt Steadman told CBS-DFW that it's part of a harassment campaign that spanned weeks, and got increasingly nasty. First, someone stole two Clinton signs from his and his wife's yard. He wasn't weirded out yet, but then someone took a third one last week. They discovered a note under the doormat.
"It said 'Hillary for Prison 2016,'" he said.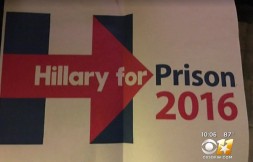 Someone allegedly vandalized their SUV by putting bleach in the gas tanks. The damage was apparently so bad mechanics told them the damage was unfixable.
The harassment peaked on Sunday, Steadman said. Their 2-year-old dog, Abby, began "tremoring" and "shaking." She died the next day. Their vet reportedly said a neurotoxin caused it.
They suggested the same person who stole the signs, messed up their SUV, and killed the dog.
"No other reason," he said. "I mean this is our front yard and we don't have any enemies. We're not the enemy type."
A Richardson spokesperson told DFW-CBS on Tuesday that there was no investigation at the time, though a detective visited the Steadman home. We've reached out for comment, and will update if we get a response.
[images via the Steadmans and CBS-DFW]
–
Follow Alberto Luperon on Twitter (@Alberto Luperon)
Have a tip we should know? [email protected]