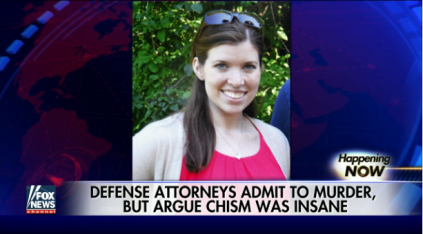 A Massachusetts teenager who raped and murdered his math teacher was sentenced to life in prison today with a chance for parole in just 25 years.
In 2013, Philip D. Chism, 14-years-old at the time, followed Colleen Ritzer, a beloved Danvers High School teacher, inside a second-floor bathroom at his school and raped, strangled and stabbed the 24-year-old 16 times before dragging her body into the woods on school grounds.
The sentence, handed down by Judge David Lowy, was a reflection of Chism's age, alleged mental state and the impact of the murder on Ritzer's family. Judge Lowy joined the Rizter family's sentiments, calling the murder "brutal and senseless."
Peggie Ritzer, the victim's mother remarked on how broken her daughter's death had left her, saying, "Now I isolate myself from people I love because pretending being to be happy is so difficult."
Despite pleas from the Ritzer family for a maximum sentence, and from prosecutors for at least 50 years, Chism's defense attorney, Susan Oker, was effectively able to advocate for her client, citing juvenile brain development as a reason her client should be eligible for parole before age 40.
Oker admitted that her client had murdered Ritzer, but put forth an insanity defense, arguing that Chism suffered from mental illness and was in the throes of a psychotic episode.
Diane Chism, the teen's mother, released a heartbreaking statement Friday expressing her condolences to the Ritzer family. "Words can't express the amount of pain and sorrow these past 2 1/2 years have been," she said. "However, there is no one who has suffered more than the Ritzer family. My utmost esteem, prayers and humble respect is with them today as they continue their journey to heal."
[h/t and screengrab via FoxNews]
Have a tip we should know? [email protected]