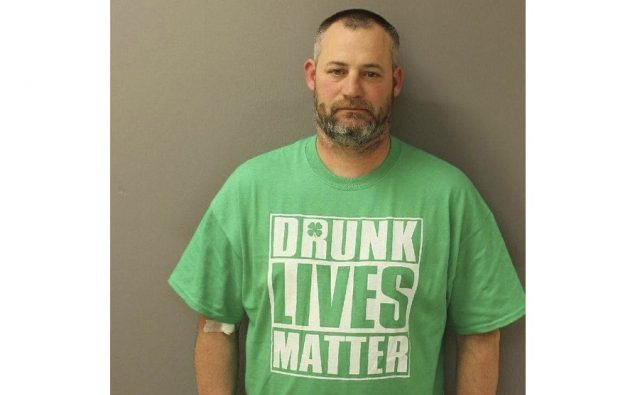 A Pennsylvania driver was pulled over after "multiple traffic violations," according to the Newville Police Department, only for officers to determine that he was driving under the influence of alcohol.  The best part? The man's t-shirt, which said, "Drunk Lives Matter."
In a Facebook post on Tuesday, police said that they brought Elwood R Gutshall III into custody, and a blood draw showed that his blood-alcohol content was .217 percent, more than twice the state's legal limit of .08. The police announcement was sure to point out it was a "legal blood draw." After all, drunk lives matter.
Gutshall was charged with DUI Highest Rate, driving under DUI suspension, as well as traffic violations. The arrest took place on March 19. Gutshall's shirt, which was green and had a four-leaf clover design on it, may have been in celebration of St. Patrick's Day, which was two days earlier, although the shamrock associated with the day has three leaves, not four.
[Image via Newville Police Department]
Have a tip we should know? [email protected]