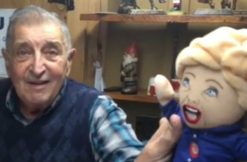 Have you read the Yelp reviews for Pleasant View Orchards? This store in Smithfield, Rhode Island has taken a whole lot of flak after the owner suspended a "Lyin Hillary" doll from some green yarn. There's no pics of the actual "hanging" but some people thought it looked like a straight up lynching.
"If I could give a negative star I would," Paula J. wrote on November 29. "Imagine taking kids there to find a doll hung by a noose on display. The doll? One of our recent Presidential candidates. Folks avoid this place. Certainly don't bring kids there."
Other bad reviews followed. Amanda L. said the display was "offensive and not appropriate for children – or really anyone." Karen B. wrote that "Hanging a Hillary doll from a noose was a very bad business decision." Shantael C. called it "a public lynching display," later adding that it was "pure hatred and ignorance in its rarest form. It's disrespectful to our history and to women in general. Who raised you?? [sic]"
But the store has its defenders too.
"Don't listen to all the negative reviews they're all just coming from narcissistic triggered feminist harpies who hate the world and pathetic liberal beta male losers upset because this business has free thought and didn't support a mass murdering degenerate reprobate like Hillary Clinton," Keith A. wrote on November 30.
The doll in question is a plush toy of former Secretary of State and presidential candidate Hillary Clinton. When you squeeze it, it says things like "Not a single one of my emails was classified."
Store owner Tony Polseno Jr. doesn't get the outrage. He said a customer gave it to him as a gift. And yup, he's a Trump supporter, too, with a campaign sign clearly displayed in his store.
"Everyone who comes in here loves it," the 81-year-old told The Providence Journal in a Wednesday report. He said that people who don't like it should look the other way. But he later insisted that he didn't want to cause any fuss.
"They're making it look like I want to hang people," he said. "I don't do that. … We don't want to be mean. We don't want to offend anyone. If we offend anyone, I'll take it down."
He didn't mention any immediate plans to take it down.
Wife Camella Polseno told the outlet she knew it was bad idea from the get-go, though she's a Trump supporter herself. She said a man from Key West went out of his way to call them, and say he hoped the store went under.
"I told you to get rid of the doll," she told her husband when a reporter was in earshot.
The Journal reports that all the blowback started with a Facebook post on Tuesday, though they couldn't reach the woman who made it.
[Screengrab of Tony Polseno Jr. and the doll via The Providence Journal]
Have a tip we should know? [email protected]