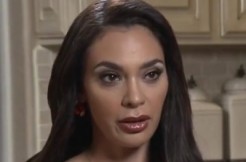 A former beauty queen fears for her safety after a man allegedly planted a tracking device in her purse.
Alexandra Ahmadi—who became Miss San Antonio in 2013—celebrated her birthday last week with friends at a bar. It was supposed to be a good time until a stranger approached them.
"He approached me and he asked me, 'Oh, are you the birthday day girl?'" Ahmadi told Good Morning America in a Friday report. He offered to buy her and her friends a drink, she said. The man hovered around her during the party, and gave her a white square item with a hole in it, she said. Ahmadi put it by her purse. She suggested to GMA that the man slipped it in her purse while her back was turned.
It was a tracking device, she said. Actually, it was a Bluetooth device meant to find lost keys and wallets. Things got worse later on.
"I woke up to a bunch of text messages," she told KENS5. "He showed me my location. Then he told me he was in walking distance of my house and that he could just pick me up." One message, reported by GMA, asked, "Can we be friends now?" He also allegedly sent her "inappropriate" photos.
Ahmadi told KENS5 he also managed to hack her phone, gaining access to her photos, reading text messages, and listening in on her calls.
She said she never gave this guy her number. (GMA reported an investigating officer found her number publicly available on Facebook.)
The investigation is ongoing. No charges have been filed.
[screengrab via Good Morning America]
–
Follow Alberto Luperon on Twitter (@Alberto Luperon)
Have a tip we should know? [email protected]