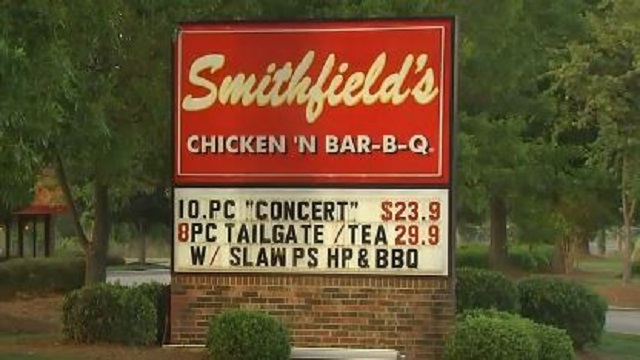 Some employees at a restaurant in Garner, North Carolina might be out of a job after cops say they sang N.W.A.'s "F–k tha Police."
From the statement published Friday on Facebook by the Raleigh Police Protective Association:
THANK YOU Smithfields Chicken & Barbeque Jones Sausage location for the class and professionalism as you sang "F- the police" as my brothers at Raleigh Police Department attempted to eat at your restaurant. The manager sang along as well. Do you really feel that was appropriate?
The union said they quickly got a response from Smithfield's franchisee David Harris, however. He apparently promised to fire anyone "that doesn't share our RESPECT of ALL law enforcement." From the Friday statement published by the RPPA:
We respect law enforcement, we have called upon them in the past for assistance, we take utmost seriousness of this issue, we have spoken with numerous officers tonight, we will do thorough investigation and terminate anyone employed that doesn't share our RESPECT of ALL law enforcement.
LawNewz.com followed up with Harris to learn more.
Whatever comes out of this, don't expect the employees to successfully sue. We asked New Jersey-based employment law and personal injury attorney Rosemarie Arnold about the legal framework at play here. Workers probably lack any leverage whatsoever:
Assuming these employees are "at will" employees, they can be fired for any reason except for being in a protected class, for instance, based on religion, sexual orientation, gender, etc. In this instance, it is absolutely permissible for their employer to fire them because what they did puts the business at risk. Any business enjoys a cordial relationship with the police department in their area. The words sung by the employees put that relationship in jeopardy. Regardless, hate speech and political views are not protected by the Conscientious Employee Protection Act or any other employment statute of which I am aware.
She said there are no states which keep employers from firing people due to "hate speech or political activism."
In October, a teenage restaurant worker in Houston, Texas lost his job after allegedly playing "F–k tha Police" as officers ate.
[Image via ABC11 screengrab]
Have a tip we should know? [email protected]