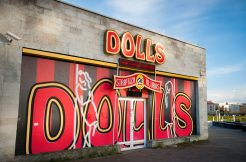 Maj. Gen. Ron Lewis, the former senior military aide for Defense Secretary Ash Carter, is facing some salacious accusations. On Thursday, the Defense Department's inspector general released a report claiming that he acted inappropriately (read: used his government credit card at strip clubs, tried to hide this by lying to a bank, and was generally too cozy with female co-workers). They say he went to overseas clubs with names like "the Candy Bar" and "Cica Cica Boom."
You can read the report below.
Lewis has fought the allegations, though according to the report, he admitted to several bad moves, including paying $1,800 at Rome "dance club" by using his government credit card. This is the same place the report identifies as Cica Cica Boom, but Lewis claimed it was actually a "high end establishment with respectable clientele."
His career is already shifting. Carter fired him almost a year ago, and now, Army spokesman Col. Pat Seiber told the Associated Press, who broke the story of the report, that they're looking into the new allegations.
"The Army only recently received the DoD IG investigation regarding Maj. Gen. Lewis, and is currently evaluating the investigation to determine what administrative or disciplinary actions may be appropriate," he said. "The Army takes allegations of misconduct seriously and demands all senior leaders, regardless of rank, uphold the highest standards of moral character and competence."
In a message to LawNewz.com, Army spokesperson Tatjana Christian gave the same information: They just got the report, are evaluating it, and are looking into possible administrative or disciplinary actions.
We've reached out to the DoD and will update when we hear back.
DoD IG Report on Maj Gen Ron Lewis by LawNewz on Scribd
[image of a strip club via Julius Kielaitis and Shutterstock]
Update – October 6, 10:32 a.m.: Updated with an embed of the actual report.
Update – 1:40 p.m.: Added information from an Army spokesperson.
–
Follow Alberto Luperon on Twitter (@Alberto Luperon)
Have a tip we should know? [email protected]