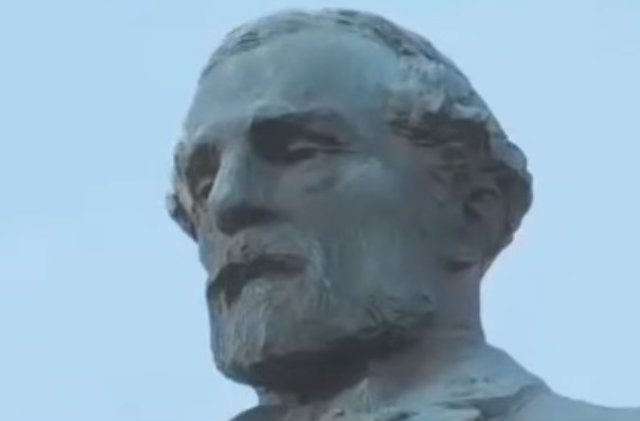 Demonstrators, including self-described supporters of white culture, showed up Saturday in Charlottesville, Virginia to protest the sale of a statue commemorating a Confederate general. One politician said it evoked KKK rallies meant to intimidate people of color.
The rally first started in Jackson Park, then ended at night in Lee Park.
Lee Park right now…. pic.twitter.com/WZ2x0JsueE

— Allison Wrabel (@craftypanda) May 14, 2017
At some point, they even started chanting "Russia is our friend."
"Russia is our friend," in Lee Park. pic.twitter.com/uNKMoKRegF

— Allison Wrabel (@craftypanda) May 14, 2017
The chant apparently evokes the recent controversy over the claim by US intelligence officials that Russia helped get President Donald Trump elected.
Charlottesville Mayor Mike Signer, a Democrat, disparaged the protest.
"This event involving torches at night in Lee Park was either profoundly ignorant or was designed to instill fear in our minority populations in a way that hearkens back to the days of the KKK," he wrote in a statement. "Either way, as mayor of this City, I want everyone to know this: we reject this intimidation. We are a Welcoming City, but such intolerance is not welcome here."
"We're not white supremacist," protestor Orry Von Dize told WVIR. "We are simply just white people that love our heritage, our culture, our European identity."
"I'm here to take part in this great celebration of our heritage and to say 'no' to the city of Charlottesville," self-described alt-righter Richard Spencer told the outlet. "You're not going to tear down our statue and you're not going to replace us."
He said it was a peaceful rally.
No arrests were announced though police reportedly dispersed the crowd after a fight between protesters.
The Charlottesville City Council decided in April to sell the statue of Confederate General Robert E. Lee. They'll also rename the local Lee and Jackson Parks. The Lee statue would be replaced with a monument to slaves.
This is part of the wider controversy in the South. Advocates want to remove Confederate symbols– including statues linked to slave owners, and pro-slavery advocates—because of racist connotations. After all, Lee owned slaves.
[Screengrab via NBC 29]
Have a tip we should know? [email protected]