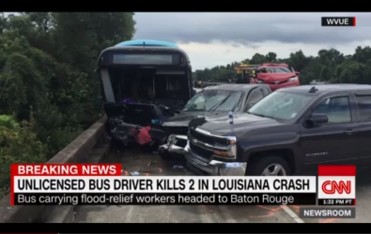 An undocumented man, without a valid driver's license was behind the wheel of charter bus fill of volunteer and supplies Sunday morning on its way to Baton Rogue, when it crashed, killing two and injuring dozens more, according to investigators.
According to CNN, the bus was driven by Denis Yasmir Amaya Rodriquez, a citizen of Honduras who was without U.S. legal paperwork.  The wreck happened about 6:40 PM Sunday evening on Interstate 10 as the bus approached another accident where firefighters were already on scene assisting the other accident.
Louisiana State Police Trooper spokeswoman Melissa Matey told reporters, "The bus driver lost control of the bus, struck a fire truck, veered across the right lane, striking other vehicles, then veered and struck three firefighters, who, all three, were thrown over the guardrail."
In other words, it created a deadly pile up.
According told Mattey, St. John's Baptist District Fire Chief was one of the two deceased persons who died in the incident.
The other person who died in the indent was a 21-year- old man named Jermiane Starr, police say was in the rear passenger seat of a Toyota Camry.
Police say preliminary reporting paces 35-40 passengers on the bus, not county the vheicles inclie.
A full investigation is still underway, according to police.
Firefighter William Mack Beal, 35 was taken to a hospital by ambulance with less urgent injuries.   Meanwhile, firefighter Nicholas Saale, 32, of Ponchatoula, had critical serious injuries and had to be airlifted to New Orleans, according to police.
Rodriquez was also taken to hospital for injuries while in police custody.  He will be booked at he St. John the Baptist Correctional Center upon his release from the hospital  charged with two counts of negligent homicide, reckless operation, and having no driver's license.  More charges may be aded at a later date as the investigation progress.
Have a tip we should know? [email protected]