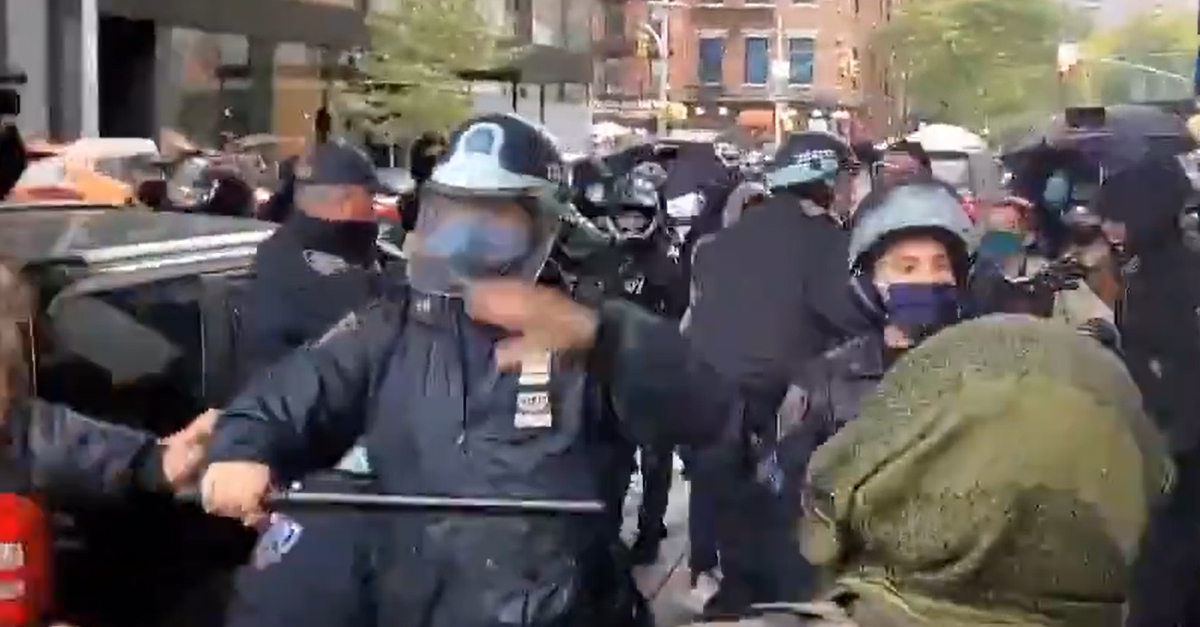 The New York Police Department on Sunday claimed they did not arrest members of the press during a protest in Manhattan. They were immediately called out.
The person in the video is Chae Kihn, a professional photographer who dutifully covered protests all summer long. She was chased and cuffed by 10+ cops while doing her job today. But she's not an NYPD-sanctioned reporter, so @NYPDnews says that's fine https://t.co/V5WbB4yFAS pic.twitter.com/ZC1rU1k4cE

— Jake Offenhartz (@jangelooff) November 1, 2020
I would just like to point out that I don't have an NYPD press pass, either. Still an official journo, though. An NYPD press pass isn't the sole credential that one is a journalist. https://t.co/ujEruYPhjD

— Jennifer Vanasco (@JenniferVanasco) November 1, 2020
"It is being reported on social media that earlier today members of the press were arrested during a protest in Manhattan," the NYPD said in a tweet Sunday. "These reports are false. All arrested individuals from today's protests have been verified to not be NYPD credentialed members of the press."
At least two photographer, including independent photographer Chae Kihn, were arrested, according to Gothamist.
Police were knocked in part for apparently implying that cops decided who were real members of the press. For example, here is Mark S. Zaid, a national security attorney:
So to be actual members of the press they need to be "credentialed" by @NYPDnews?

I don't think so. Maybe try again. https://t.co/SxzN4bolJ8

— Mark S. Zaid (@MarkSZaidEsq) November 1, 2020
Law&Crime's Colin Kalmbacher and Brooklyn public defender Scott Hechinger also weighed in.
This is a lie. https://t.co/8581Gw0j9M

— Colin Casserole Kalmbacher (@colinkalmbacher) November 1, 2020
"Here is the NYPD justifying arrests of journalists because *the NYPD* hadn't credentialed them," Hechinger wrote.
[Screengrab via @protest_nyc]
Have a tip we should know? [email protected]