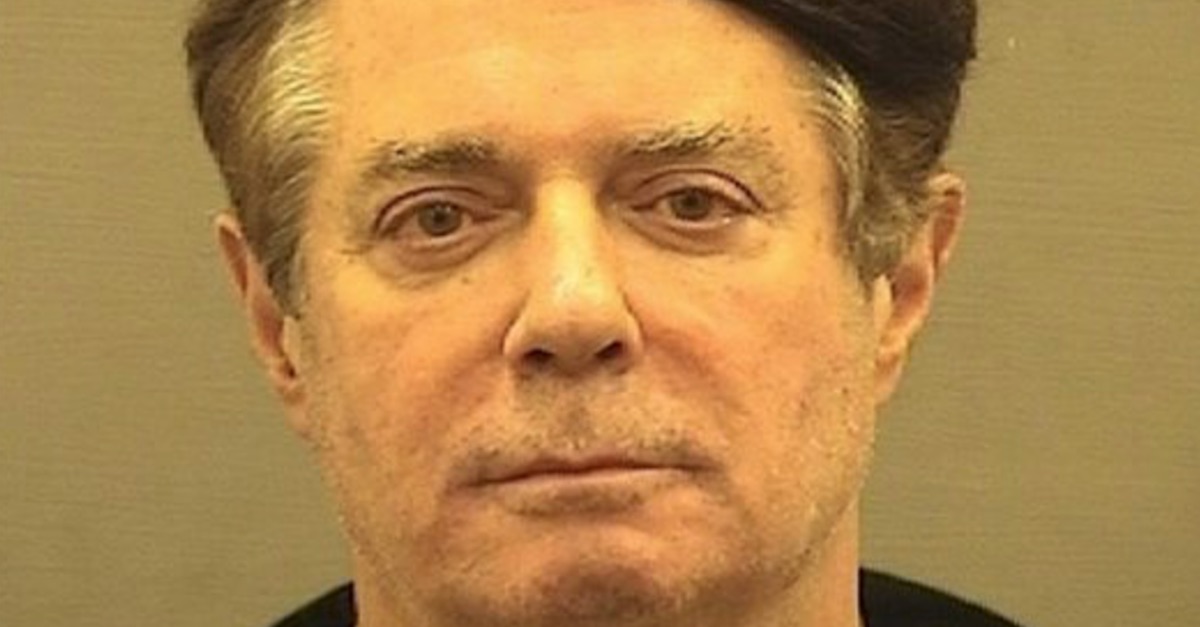 Special Counsel Robert Mueller filed an evidentiary exhibit list with the U.S. District Court for the Eastern District of Virginia (EDVA) late Wednesday night. This list offers some key insights into the luxurious and jet-setting lifestyle of defendant Paul Manafort.
Topping out at more than 436 individual forms of evidence, many of the entries on the list are standard fare for these sorts of proceedings–including: immunity orders for various witnesses; copies of emails to and from Manafort and his former co-defendant Rick Gates (who is now cooperating with the Mueller probe); and memos and invoices sent to business clients.
Then, of course, there's the extensive (though likely not exhaustive) catalogue of Manafort's very fancy and very expensive personal belongings and purchases.
One series of photographs apparently shows a watch owned by Manafort and produced by the House of Bijan. Another series of photographs shows various articles of clothing produced by the same company. The House of Bijan loudly brags about being "the world's most expensive store," and potential customers are seen by appointment only. The evidence details that Manafort's spending at House of Bijan apparently took place over the course of roughly three years.
Another entry details a series of images showing articles of clothing produced by Alan Couture. This now-defunct luxury brand was formerly based in midtown Manhattan where they produced lavish custom clothing while generating around $3 million from its single location annually–without a blip of advertising. The evidence list notes that Manafort has invoices from Alan Couture spanning a nearly five-year period.
There are also documents from J&J Oriental Rug Gallery located in Alexandria, Virginia. According to the indictment, the former Donald Trump 2016 campaign chairman spent exactly $934,350 at an unnamed antique rug store in Alexandria.
Another series of interestingly extravagant inclusions on Mueller's evidence list are various outlays to Big Picture Solutions, Inc., a lighting store in Jupiter, Florida where Manafort is alleged to have spent in excess of $1.3 million.
Other high-priced items of note include various years' worth of season tickets for the New York Yankees and an invoice for Manafort's purchase of a Mercedes Benz SL 550. As noted by the New York Post, Yankees' season tickets are the most expensive investment in all of baseball. As for the SL 550? The original indictment pegs that ride at a purchase price of $62,750.
Manafort is currently being prosecuted on charges of bank fraud, money laundering, and tax evasion in the EDVA. Mueller and prosecutor Andrew Weissmann contend that Manafort laundered in excess of $20 million while lying on tax forms over the span of five years. His trial is scheduled to begin on July 25.
[image via Alexandria Detention Center]
Follow Colin Kalmbacher on Twitter: @colinkalmbacher
Have a tip we should know? [email protected]