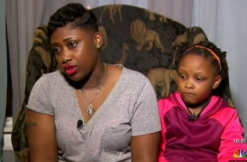 Marlena Wordlaw plans to sue after a school security guard allegedly handcuffed her 6-year-old daughter Madisyn Moore. Over what? For allegedly stealing candy from a teacher's desk at Fernwood Elementary in Chicago.
The kid was pulled out of class after the alleged theft, and put in the restraints, Mom said. Wordlaw was called in about the incident, and was surprised at what she saw when arrived at the school. Cue her reportedly confronting the security guard.
"I said 'why you have my baby in cuffs?'" Wordlaw told NBC Chicago in a Friday report. "He said, 'Because I'm trying to teach them to stop taking stuff that don't belong to them.'"
Madisyn had been reportedly restrained for about an hour under stairs.
"They hurted," Moore told NBC Chicago. "He snatched me out of my class. He made me get out in my handcuffs."
Worldlaw said the principal tried to apologize, but she would never accept "sorry" as an answer. "I understand these teenage boys and whatever the case may be, yeah, you can try to teach them a lesson, but this is a little girl," Wordlaw said. "I'm more angry than anything because it's my only daughter. I feel like anything could have happened to her. Somebody could have touched her. She's in the dark under the stairs."

[h/t NBC Chicago]
[image of Wordlaw and Moore via NBC screengrab]
–
Follow Alberto Luperon on Twitter (@Alberto Luperon)
Have a tip we should know? [email protected]