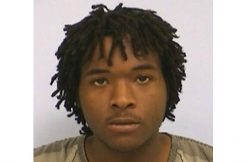 Texas man Pontrey O'Neal Jones faces a murder charge after killing stepmother Magdalena Ruiz on Sunday, the Austin Police Department says. And it was apparently over a football game.
Ruiz was apparently a Dallas fan because she started celebrating after they beat the Tampa Bay Buccaneers 26-20, according to an affidavit obtained by CBS Austin. Or as the statement put it from Jones's viewpoint, she was "disrespecting his father and gloating about how the Cowboys won the game."
Police say Jones, 20, admitted that he first thought about breaking his little sister's neck, then decided to grab a knife, approached Ruiz from behind the couch, and stabbed her multiple times. His father tried to stop it with no avail, and he escaped. Investigators say they found him minutes later, blocks away, lying naked in the grass.
Ruiz passed away at a local hospital.
If convicted, Jones faces a possible death sentence for first-degree murder. He is being held on $500,000 bond.
[Austin Police Department]
Have a tip we should know? [email protected]