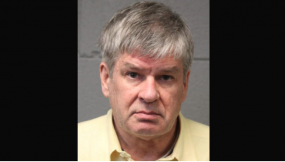 A man in search of some peace and quiet on his commute home is now facing one felony count of unlawful interference with a public utility. Dennis Nicholl, a 63-year-old Chicago man, was arrested after undercover police officers boarded a Red Line train and spotted him with a cellphone jammer amidst reports of disrupted communication by the Chicago Transit Authority and its passengers.
We've all been there, and maybe done that too. You know, talking on our cell phones on a crowded train. But Nicholl allegedly went too far.
"He was irritated by people constantly on their phones," said Nicholl's attorney, Charles Lauer, "I don't think he had any malicious intent." Nicholl's may not have had malicious intent, but his 2009 misdemeanor jamming charge paints a different picture.
A$AP Keegan, a Twitter user (@keeganGOudie), caught Nicholl in action.
WHO is this guy, and WHY does he have a cell-phone jammer on the Red Line? https://t.co/IKDzELg6eq pic.twitter.com/glEBxcqKCD

— A$AP Keegan (@keeganGOudie) October 22, 2015
Lauer said his client is "in shock" at the charges, but his prior misdemeanor means the charges should not necessarily come as a surprise. Nicholl's understood the technological capabilities of the jammer to only interrupt calls in about a 15-foot vicinity, but his felony charges shows the consequences were far-reaching.
"I don't think he was trying to mess with FCC communications," Lauer said. "He's pretty much in shock. This would be a serious blemish on his life."
Judge James Brown held Nicholl on $10,000 bond. "He's the cellphone police," Brown remarked during the bond hearing. Nicholl had to pay $1,000 to bond out of jail.
Unfortunately for Nicholl, ignorance of the law is no excuse, but at the same time, we all need a little peace and quiet once in a while.
[h/t DNAInfo]
[Screengrabs via Twitter/Chicago PD]
Have a tip we should know? [email protected]