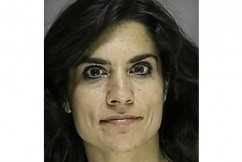 Florida lawyer Linda Hadad was arrested for a DUI in 2010. Things only snowballed from there. The former public defender was recently disbarred for allegedly using pretty much every drug under the sun, and reportedly getting intimate with two inmates.
Hadad told Florida Bar officials that she'd used a slew of drugs, according to records obtained by WFTV: acid, Adderall, cocaine, crack, crystal meth, Lortab, oxycodone, pot, and Xanax. She allegedly used the legal stuff without a doctor's prescription.
These legal records also stated she'd used her attorney access privilege to visit and get intimate with two inmates, Brandon Carson, and Steven Sullivan.
"I can't wait to touch your [blank]," she allegedly told Carson during one jailhouse phone call. "We will have to get my sex toy, too."
She allegedly told Sullivan, "I miss phone sex," during a call.
There were apparently more sexual conversations, at least between her and Sullivan. She admitted to Bar officials she'd kissed Carson "one time."
The Florida Bar started questioning Hadad in 2015. After that, she was arrested four times in connection with driving without a license and fleeing from police.
She used to be a public defender for Volusia County, north of Orlando, and later ran her own defense practice before losing her license.
[mugshot/screengrab via WFTV]
–
Follow Alberto Luperon on Twitter (@Alberto Luperon)
Have a tip we should know? [email protected]