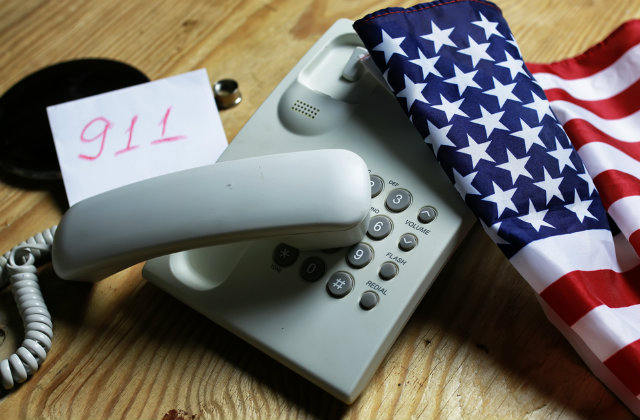 When a domestic violence survivor calls 911 against a dangerous ex, they don't usually assume they'll get kicked out of town. And yet that's what the ACLU says happened to Rosetta Watson, who used to live in the small town of Maplewood, Missouri.
She called authorities four times on an abusive former boyfriend from September 2011 to February 2012, according to the federal lawsuit filed Friday. In one incident, the man, Robert Hennings, allegedly visited her at her home (they didn't live together), got drunk, and verbally abused her. She managed to get out of her home, but he later returned, kicked open the front door, and punched her in the face before she called 911. Hennings was arrested in three out of these four instances, and again in a fifth in which Watson did not call 911, the ACLU says.
Watson's four calls to authorities got her on the radar of Maplewood officials, but reportedly not in a good way. Residents need permits to live there, and they can be kicked out for being considered what the law calls a "nuisance." For example, the premises are where alleged domestic violence resulted in more than two calls to the police within a 180-day period.
Watson's permit was revoked, causing her economic harm and the loss of her Section 8 voucher. She moved to St. Louis. There, the lawsuit says, where she lacked stable housing and where Hennings continued to terrorize her with bloody results.
From the lawsuit:
On July 11, 2012, Hennings kicked in the door to Ms. Watson's new residence and stabbed her in the legs. Because of her experience in Maplewood, Ms. Watson feared calling the police.
She chose to go by herself to the hospital, where she was treated. On information and belief, the hospital contacted the St. Louis Metropolitan Police Department, which arrested Hennings. Hennings was charged, plead guilty to domestic assault in the third degree in August 2012, and sentenced to incarceration.
The lawsuit claims the city violated Watson's First Amendment rights to petition the government for redress of grievances and free speech; and addition, her Fourteenth Amendment rights to due process, equal protection, and right to travel. In addition, the city's nuisance ordinance allegedly conflicts with the federal Violence Against Women Act, which includes housing protections for victims of domestic violence.
She now demands the nuisance policy to be declared unconstitutional, as well court costs, and compensatory and punitive damages.
The city is being sued. So are the city manager Martin Cocoran, police chief Stephen Kruse, and Director of Public Works Anthony Traxler, in their official capacities. We've reached out to them for comment.
[Image via Alexkich and Shutterstock]
Have a tip we should know? [email protected]