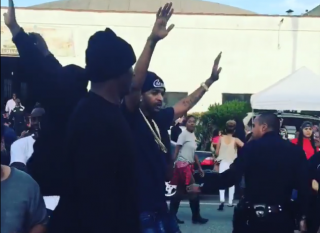 Police responded to the scene of what they probably thought was a protest in Los Angeles on Monday, where a rowdy group was chanting, "F— Donald Trump!" Turns out, it was part of a music video shoot for the new song, "F— Donald Trump," by rappers YG and Nipsey Hussle. The crowd of roughly 100 people served as a backing chorus.
Warning: the following video contains the aforementioned strong language.
TMZ reported that cops showed up in riot gear after they received complaints about cars driving up and down the streets with a crowd watching. As it turns out, one out of control vehicle stuck a bystander, which can be seen below. He reportedly was not injured.
Police shut down the video shoot, but the rappers reportedly already shot enough footage to complete the project.
Nipsey Hussle told Billboard that he was inspired to write the song by Trump's negative statements towards Hispanic people.
[h/t TMZ, image via screengrab]
Have a tip we should know? [email protected]