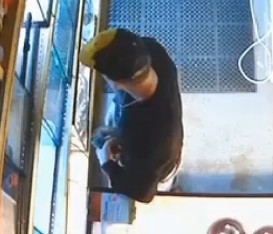 An accused shoplifter at a pet store shoved a two-foot python down his pants Sunday, and walked right out. Maybe everyone thought he was just swinging pipe, not serpent. The man with a big snake was filmed by a security cam, but he hasn't been caught yet.
He was reportedly helped by a woman with blue hair. Because babes love guys with big pythons.
The store's owner Christin Bjugan told KPTV the thief was lucky it wasn't feeding day. "Feeding days are on Mondays," she said. "And they're very hungry."
It's funny because she means the two-eyed snake would've bitten the shoplifter's one-eyed snake.
Bjugan was mad about the theft of the $200 python, and was working with investigators to make sure the snake snatcher gets caught. I'm dubbing him the Overcompensator.
[h/t HuffPo Crime, image via screengrab]
–
>> Follow Alberto Luperon on Twitter (@Alberto Luperon)
Have a tip we should know? [email protected]