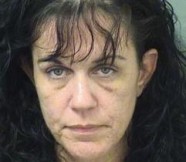 April Purvis has been accused of having sex while high in the bathroom of a rec center, according to authorities. Meanwhile, her grandson was also in the bathroom. Yes, this story gets more perplexing, and yes, it happened in Palm Beach County, Florida.
A second child told investigators that the 42-year-old [not a typo] Purvis and a man were having sex in the bathroom, according the police report. The man gave the child witness money to scram, leaving the man, Purvis, and the grandson.
The witness said he later returned, and found an unconscious Purvis on the floor holding grandson and a knife, according to the report. Police said she was barely responsive when they arrived.
The Palm Beach County Sheriff's Office later determined she'd downed morphine, Xanax, and vodka. (Side note: Taking alcohol with depressants like Xanax can be lethal, according to the University of Michigan.) The grandson was later picked up by his mother, after he and Purvis were sent a hospital. The mother told deputies Purvis helps care for the child.
Purvis faces a charge for child neglect, and was released from jail Tuesday on $3,000 bail.
[h/t Palm Beach Post]
[mugshot of Purvis via Palm Beach County Sheriff's Office]
–
Follow Alberto Luperon on Twitter (@Alberto Luperon)
Have a tip we should know? [email protected]