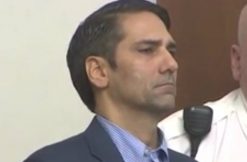 Gary Zerola has quite the history. The 45-year-old lawyer used to go after bad guys as a Suffolk County prosecutor, then transitioned to defense work. PEOPLE magazine even named Boston's most eligible bachelor in 2001. He's also been charged with rape four times in ten years.
Zerola faces two counts of rape, police say. He turned himself in after finding out he faced an investigation. Prosecutors say he sexually assaulted a woman in a Boston apartment on November 10, and they have the physical evidence to prove it, though testing is pending. His defense lawyers say it never happened.
"Mr. Zerola is nothing more than a target in this case," attorney Joseph Krowski Jr. said in court on Wednesday. "This is a case based on a foundation of lies and we vigorously look forward to our day in court."
In 2006, two women said he raped them in his Boston apartment. Just a year later, another woman said he raped her during a visit to Miami, Florida. He was acquitted in the Massachusetts cases, and Florida prosecutors later dropped their charges against him.
[Screengrab via WCVB]
Have a tip we should know? [email protected]