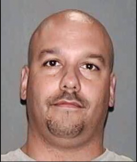 The ex-NYPD cop who jumped in front of a city subway train shortly after fatally stabbing his ex-girlfriend is now suing the New York Metropolitan Transit Authority for $50 million for the injuries caused by the incident.
Arthur Lomando, 44, had both legs amputated in October after jumping in front of a train at the 168th Street station in Washington Heights. Lomando is accused of slashing his ex-girlfriend, Suzanne Bardzell, to death in her driveway just an hour before he lept in front of the train.
Andrew F. Plasse, Lomando's attorney, is rebutting claims that his client jumped, instead claiming that he was injured as a result of being "jostled" by people in an "overcrowded" station.
In legal papers filed with a New York civil court, Plasse claims Lomando either slipped on "slippery substances" or "was struck by falling debris on the platform which caused him to fall." Authorities maintain that Lomando tried to kill himself after slaying Bardzell.
According to WABC-TV, Lomando was fired from the police force in 2004 over mental health concerns. Lomando is being held without bail in the Bergen County jail.
[h/t FoxNews and NorthJersey.com]
Have a tip we should know? [email protected]