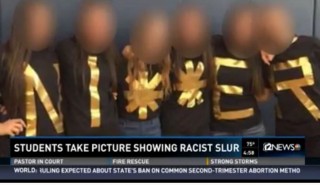 Arizona school officials are investigating after six students took a controversial picture posed in T-shirts that spelled the "N" word. The picture was taken on Friday and posted to social media after the annual panoramic yearbook picture for students. The original configuration of the letters included messages like: "BEST*YOU'VE*EVER*SEEN*CLASS*OF*2016."'
Teachers said they were not aware of the offensive picture, until after it was put out on social media. The Arizona Republic reported that the picture showed up on Snapchat – the app that makes texts/pictures quickly disappear.
Here is why the district could face a possible federal probe or at the very least further legal questions. A local civil rights group and parents say they may submit a complaint to the U.S. Department of Education's Civil Rights Division. Local activist Rev. Jarret Maupin wants a further investigation to determine if the picture is indicative of a pattern in which students of color are being discriminated against in the Tempe, Arizona school district. The feds are required to look into every complaint they receive like this. "
"The Office for Civil Rights neither confirms nor denies complaints it receives until the case moves to an investigation – should it come to that.  The evaluation process usually takes about 30 days, but depending on the complexity of the issues, that can sometimes take much longer, even months.  So, if a complaint was filed last week, it's unlikely we would be able to tell you anything – even to acknowledge that a complaint was filed," a spokesperson for the U.S. Department of Education's press office emailed to LawNewz.com.
We have confirmed that the group is planning a meeting, and a  rally in front of the high school on Monday.
#Racism has NO place in our public schools. On MONDAY I will meet with #DesertVista #TUHSD leaders about this #hate. pic.twitter.com/5ioCFq4NBo

— Rev. Jarrett Maupin (@ReverendMaupin) January 23, 2016
"We are appalled and disappointed at this behavior and it will not be tolerated. It is unacceptable for any racial slur to be used regardless of intent," said Kenneth Baca, the superintendent for the Tempe Union School District,  in a letter to parents, "There have been numerous reports about punishment and while we cannot give specifics about the discipline, we can assure you those reports are inaccurate. We have a discipline process and it is ongoing."
The statement went on to say that "Social media has made this an international news story which has led to the spewing of vicious and vulgar hatred toward not only the six teenagers involved in this incident, but also to Desert Vista's student body and staff, and the entire Tempe Union High School."
Title VI of the Civil Rights Rights Act of 1964, applies to all school districts which receive federal funding including this school district. The law requires that "public funds, to which all taxpayers contribute, not be spent in any fashion which encourages entrenches or results in racial [color or national origin] discrimination." To make their case stick, the civil rights group would have to provide evidence that this was not some isolated incident, but the district in some way condoned the students' behavior — or provided a climate in which this kind of behavior was acceptable. The school district is already planning a cultural sensitivity workshop for this week.
[H/t KPNX]
Have a tip we should know? [email protected]
Rachel Stockman - President / On Air Host