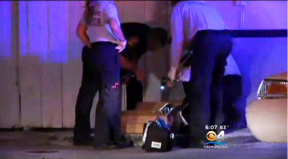 A Miami couple has been awarded $28 Million after a jury determined that a funeral home was negligent in its transport of their deceased newborn baby.
Catheryne Lucero and Raul Manzano believed the body of their infant son, who died soon after his birth on Sept. 1, 2014, was in good hands with the Carey Royal Ram'n Mortuary when he was away for cremation. In a truly bizarre incident, the remains of the baby boy were found in a dumpster behind a gas station in North Miami, Fla. a few days later.
As the Miami Herald reported at the time, a toe tag on the child's body provided police with "a big clue" that something truly bizarre transpired. The toe tag, at the very least, suggested that the boy had been dead for a significant period of time and may have originated from a funeral home.
A homeless man and gas station customer made the gruesome discovery as he searched for a crate to sit on. He saw a small wooden crate and soon discovered it contained the body of the baby. Jarren Hood, the son of the mortuary's owner, informed police that instead of taking the body straight to the crematorium, he stopped home instead. That's when someone stole the crate from his van. A Florida state panel determined that Hood "committed negligence, incompetency, or misconduct" during the transport of the body.
While no foul play was involved, negligence clearly was, and now the Carey Royal Ram'n Mortuary is on the hook for the hefty eight-figure sum.
As one might imagine, the family's civil trial lawyer Neal Hirschfeld said, Lucero and Manzano "were so distraught."
Check out the original news story from Fox 40 below:
[h/t USAToday]
[Screengrab Fox40]
Have a tip we should know? [email protected]