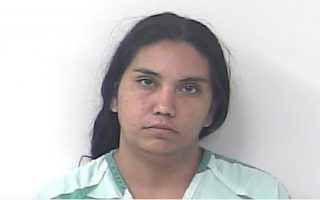 Police in Fort Pierce, FL were called out on Halloween night to investigate an alleged domestic dispute, according to court records recently obtained by local newspapers. What they allegedly found upon arrival would've likely come as a surprise to even the type of cop who says he has seen it all.
The Naples News obtained an arrest affidavit that details an utterly crazy scene. According to police, a male victim approached the responding cops and told him that he had been in a disagreement with a woman identified as Rosalia Garcia. The fight was allegedly over $20, and the man said he called 911 as Garcia got even more aggressive.
While he was on the phone dialing 911, the man told the cops Garcia slashed his neck with a glass crack pipe. The man also accused Garcia of being a crack addict.
Police say Garcia insisted the man's neck injury was the result of cutting himself while shaving. She also reportedly did not deny being a crack addict, but she insisted she got rid of her crack pipe days ago.
The male victim told the cops he believed she actually just flushed it down the toilet.
However, the truth of the crack pipe's location reportedly came out on the way to jail — police say Garcia admitted she had placed the crack pipe inside her vaginal cavity.
A female officer took Garcia to an exam room at the jail and the crack pipe was removed. Garcia allegedly told cops she thought she may have cut herself during the extraction process.
The police affidavit does not state whether Garcia suffered any injuries during the extraction.
After successfully extracting the alleged crack pipe, St. Lucie County Sheriff's Deputies placed Garcia under arrest on multiple charges, including aggravated battery and possession of drug paraphernalia.
The male victim was not arrested.
[image via ST. LUCIE COUNTY SHERIFF'S OFFICE]
Have a tip we should know? [email protected]