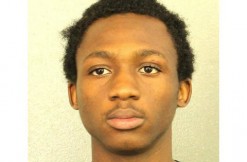 Miramar police said they arrested an armed robbery suspect after a chase involving a car crash, a pugnacious 4-year-old, an escape attempt via clothes dryer, and an attack by sliding glass door. We've hit peak Florida.
This is the story. Johnny Morris was driving a white Nissan Altima with Tre'Von Simon in the passenger seat on Tuesday, according to an affidavit obtained by The Miami Herald. Local police just so happened to be on the lookout for an armed robbery suspect, and the description they got matched Simon and the car: white Nissan Altima with a black male passenger wearing a black hoodie.
Officer Raul Garcia saw them, followed, and tried to pull them over for a traffic stop. Morris sped off, police said. Simon allegedly tossed a rose gold iPhone out the car.
This "race" ended when the Nissan crashed into a guard rail, but Morrison wasn't done running, police said. He bolted from the car, dropping allegedly stolen credit cards as he went. In an apparent attempt to hide, he allegedly grabbed a 4-year-old outside a house, telling the kid, "Shhhhh."
In reply, the kid bit him . Morris, apparently taking the hint, let go.
Now we're not sure what to make of this next detail. We'll just quote the Herald's David J. Neal for this part.
As the child's mother pleaded with Morris not to hurt her or her child, he began emptying the clothes dryer with the apparent intention of hiding from the police inside.
His didn't fit because that's not how clothes dryers work. According to the affidavit, he tried to go inside their house. This also failed: Mom got in his way, and slammed the rear sliding glass door on his foot, multiple times.
Police found him in the yard, and arrested him. The alleged robbery victims identified Simon as the perp. Morris faces nine charges, including armed robbery, car burglary, kidnapping and fleeing law enforcement with siren and lights activated. He is being held at the Broward County Mail Jail.
[mugshot via Broward County Sheriff's Office]
–
Follow Alberto Luperon on Twitter (@Alberto Luperon)
Have a tip we should know? [email protected]