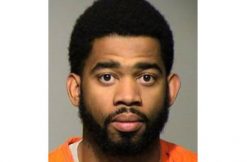 Dominique Heaggan-Brown, a police officer for the Milwaukee Police Department, was put on administrative duty after a controversial August 13 shooting death of local man Sylville Smith. Now he's been charged with sexually assaulting a man only two days later.
According to Milwaukee County jail record obtained by Law Newz, the 24-year-old remains locked up in lieu of $100,000 of bail. He faces two felony counts of second-degree sexual assault of an intoxicated victim, one felony count of capturing an image of nudity, and two misdemeanor counts of prostitution.
Here's the story according to the criminal complaint filed Wednesday, and later obtained by KTLA. Police say that on August 15, he was drinking with the man at a bar. Actually, they were reportedly watching protests of the Smith shooting (Smith, like Heaggan-Brown, was black). Later, the officer went to his home with the man. That's when and where the sexual assault happened, police say.
Cops say he took the man to hospital, telling hospital staff that the man was acting "weird and unresponsive" at a bar and "completely out, zonked out" from drinking. But the man told the staff that the officer "raped me," the complaint states.
The next morning, Heaggan-Brown allegedly texted a sergeant from the force for advice.
"Need your help big time," he wrote. "F—— up big time … But need to handle this the most secret and right way possible." The sergeant met with him, and Heaggan-Brown defended the incident as consensual sex, adding that the man "was drunk and had 'medical issues.'"
Authorities don't believe that, and a preliminary hearing is scheduled for next Thursday, October 27. Attempts to reach him have been unsuccessful at this time.
Mike Crivello, president of the local police union, addressed the charges in a statement obtained by Law Newz:
The Milwaukee Police Association is proud to represent 1600 truly professional officers. In any large organization there may be a time that one, or a few discredit the overall; this is by no means reflective of the overwhelming majority of good officers. The MPA condemns all criminal behavior by any member of society, whether part of this organization or not – in all situations it is imperative that fact(s) are allowed to dictate the outcome.
Update – October 21, 10:10 a.m.: Added a statement from the MPA.
[mugshot via Milwaukee County]
–
Follow Alberto on Twitter (@Alberto Luperon)
Have a tip we should know? [email protected]