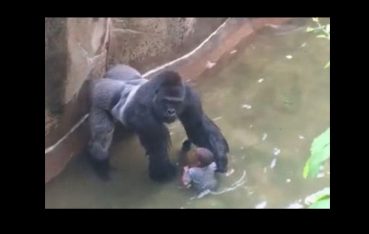 Administrators at Clemson University in South Carolina have reportedly banned students from displaying Harambe memes any place on campus that can be viewed by the public.  Harambe was the 17-year-old silverback gorilla that was killed at the Cincinnati Zoo earlier this year after a child fell inside his enclosure.
"I am happy to discuss the new policy.   Due to an incident that happened earlier this week, we are no longer allowing any reference to Harambe (or any other spelling) to be displayed on doors, halls, billboards, or windows," Graduate Community Director Brooks Artis wrote in an email first obtained by Campus Reform.
According to the report, the decision was made after "an undisclosed malicious Harambe meme was directed towards a student."  However, the email from the administration does not provide any additional details about the alleged incident.
In a follow up email response to an unidentified student's question about the new policy, Artis wrote:
Thank you for asking for clarification on the recent change.  In regards to your question about the specific ways that Harambe represent (sic) meaning or connotation, there have been reports that he and the incident surrounding his death have been used to add to rape culture as well as being a form of racism.
Artis went on to say that the administration was not banning the use of the word, but warned the student to be careful about using it in the future — suggesting its use may result in serious disciplinary action.
"While we are not banning the word, I want to encourage you to think about what you are saying and how someone who may be a different gender, race, culture, or sexuality than you may take the comment," Artis wrote.  "My hopes are that you are being inclusive in your words … so that you are not reported to OCES or Title IX."
Clemson is not the first university to crackdown on Harambe.  Earlier this month, residential advisors at the University of Massachusetts sent out an email stating negative remarks or memes about Harambe were a "microagression" that would be "seen as a direct attack to our campus' African-American community."
UPDATE: 
The University of Clemson on Tuesday issued a press release stating "students in one residence area [were] told incorrectly that they are not allowed to display references to Harambe."  The University sent the following email to students:
Good Evening –

This email is meant to clarify some earlier communication you may have received as a member of the Shoeboxes community.

We are committed to creating an inclusive, safe living community where all residents feel comfortable in peacefully expressing differing points of view. Last week, a door posting with a meme was brought to the attention of our staff as its content made some feel uncomfortable. We also want all residents to feel they are able express their thoughts, opinions and ideas.

To that end, we want to clarify that building residents are able to post items on their individual doors.

Should you encounter any issue of concern please reach out to your RA or other hall staff members for assistance.
Have a tip we should know? [email protected]