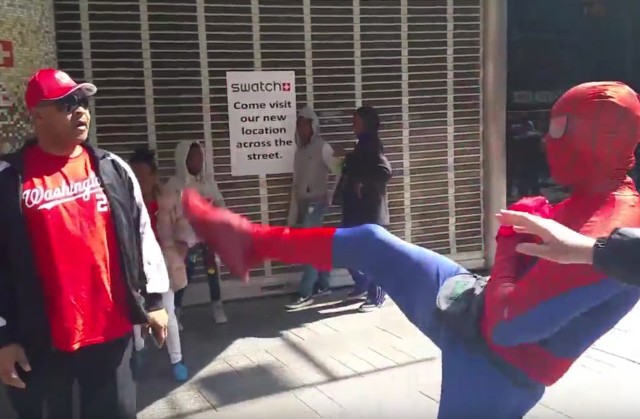 A not-so-friendly neighborhood Spider-Man was arrested Saturday in Times Square for fighting a tourist over a promised tip. No, dear reader, it wasn't the real Spider-Man, just some guy posing with people in pictures.
The erstwhile arachnid, Abdelamine El-Khezzan, was cuffed alongside his opponent, Rodney Merrill, who was visiting New York from Virginia. Both men were charged with assault.
Batman—actually, Jose Escalona—spoke to the New York Post about it, and apparently caught it all on his cell phone. He and El-Khazzan had been working at the corner of 45th Street and Broadway. Then Merrill, his wife, and four kids asked the superheroes for a picture.
El-Khazzan, 37, apparently asked for a tip, and Merrill, 55, said, "OK," but the wife later said, "Oh, no, I don't have no money!"
El-Khazzan's reply? He kicked the woman, police said.
"You lied to me!" Spider-Man allegedly said, sounding more like the Green Goblin, to be honest. "You lied to me! You're not supposed to do that. You have kids with you. You're not supposed to teach that!"
Batman said this set off Merrill, who now promised to whup the wall-crawler. Spider-Man demanded the tourist "take the first shot." Which happened. Now we're not quite sure what happened here. We'll just let the Post explain:
"In a bizarre sequence, Spider-Man then throws a flurry of phantom punches that don't land, erupts in a series of Kung-Fu-like moves and then shimmies up a light pole like, a um, spider.
"'Justice is served! I got him!' he exclaimed."
Yeah, we don't know either. Anyway, Batman insisted his chum wasn't at fault.
"The police are getting it wrong," Escalona said. "I showed them the video, and they just don't listen. The [tourist] was the aggressor. We are not the bad apples."
[h/t New York Post]
[image via New York Post screengrab]
–
Follow Alberto Luperon on Twitter (@Alberto Luperon)
Have a tip we should know? [email protected]