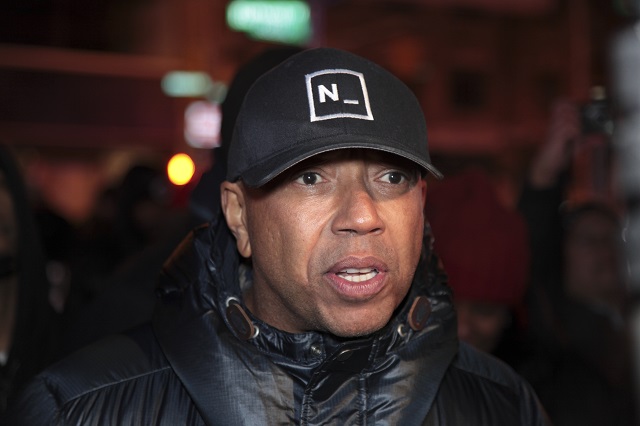 A Los Angeles filmmaker is suing hip hop mogul Russell Simmons in federal court, alleging that he sexually assaulted her in
Jennifer Jarosik claims that she approached Simmons in 2006 for an interview and and for assistance in producing and financing a documentary she was working on. According to her complaint, filed on Wednesday, Simmons agreed, and the two began working together.
Jarosik alleges that in 2016, Simmons invited her to his home in LA, and asked her to have sex. According to the lawsuit, she said no, at which point Simmons pushed her onto his bed, and after she tried to fight back, he knocked her off the bed, causing her to hit her head. He then allegedly "pounced on her while she was still in shock and fear, and proceeded to rape her."
Jarosik's complaint accuses Simmons of having a history of taking advantage of young women with aspirations of making it in show business. Her lawsuit says:
[Simmons] has historically thrived on the sexual exploitation of young women trying to break into the entertainment and music industry, in which young female artists are falsely promised opportunities and advancement by experienced and well-established men in power in the industry, with their careers in jeopardy if they resist the sexual overtures of these powerful men.
Jarosik claims that after she learned of allegations against Simmons made by other women, she contacted him to discuss what happened, but Simmons "pretended it never happened."
The lawsuit mentions ten other women who have supposedly accused Simmons of sexual harassment or assault in the past. One of them, Keri Claussen Khalighi, told her story in a Los Angeles Times report in November. Another, Sherri Hines, has said she has spoken to the NYPD about her allegations, and screenwriter Jenny Lumet's account, published in The Hollywood Reporter, led to the mogul deciding to step away from running his businesses.
In addition to sexual assault and battery, Jarosik also made claims of intentional and negligent infliction of emotional distress. She claims that as a result of Simmons' alleged actions, she became "sick, sore, lame, disabled and disordered, both internally and externally, and suffered, among other things, numerous internal injuries, sever fright, shock, pain, discomfort and anxiety."
Jarosik claims that due to the alleged assault, "has bene [sic] unable to engage fully in her occupation," and "will be incapacitated and unable to perform her usual work for an indefinite period of time in the future."
She is seeking $5 million in punitive damages, on top of any general or special damages the court should deem proper, plus interest and attorneys' fees.
"It's time that the hip hop industry face the music and recognize that the deep rooted history of misogyny and discrimination against women in the music industry has to end," Jarosik's attorney Perry Wander said in  statement to Law&Crime. "The only way to obtain justice in this case is for Mr. Simmons to make restitution to my client."
Wander also said that Jarosik plans on filing police reports over the alleged 2016 incident, as well as a separate alleged incident that he says took place in New York City in 2011.
Simmons denied the allegations in a statement through spokesperson Eric Rose.
"This allegation is absolutely untrue," the statement said. "I look forward to having my day in court — where, unlike the court of public opinion, I will have the ability to make use of fair processes that ensure that justice will be done and that the full truth will be known."
Note: This article has been updated with statements from Jarosik's lawyer.
Jarosik v Simmons Complaint by LawNewz on Scribd
[Image via a katz/Shutterstock]
Have a tip we should know? [email protected]