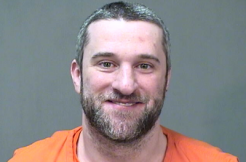 Dustin Diamond made a name for himself playing Screech, an endearing, harmless geek on the show, Saved by the Bell. Now the 39-year-old is behind bars again for violating his probation in Wisconsin. The Ozaukee County Sheriff's Office have announced that the Saukville Police Department arrested him Wednesday afternoon, and he's still locked up as of Thursday morning.
An employee of the Ozaukee County Jail couldn't tell LawNewz.com much. Only that Diamond was on "probation hold." A Thursday morning press statement added little else.
The Ozaukee County Jail is simply housing DIAMOND [sic] on this probation hold, placed by his probation officer," jail officials wrote. "We are not given the detail of this violation and do not know an estimated date of release."
Diamond's lawyer, Thomas Alberti, said he was ready to help his client.
"I am incommunicado, standing by should my services be required by Mr. Diamond," he told LawNewz.com. "Dustin is a good person, I trust that this will prove to be a minor speed bump."
Diamond was convicted in May, 2015 in connection to a Christmas Day stabbing in Port Washington, Wisconsin. He was sentenced to 120 days behind bars, and 15 months of probation. Plus, he and his fiancee, Amanda Schutz, had to pay restitution.
After his sitcom days were over, Diamond has made a living appearing in films and reality shows, and doing stand-up comedy.
–
Follow Alberto Luperon on Twitter (@Alberto Luperon)
Have a tip we should know? [email protected]