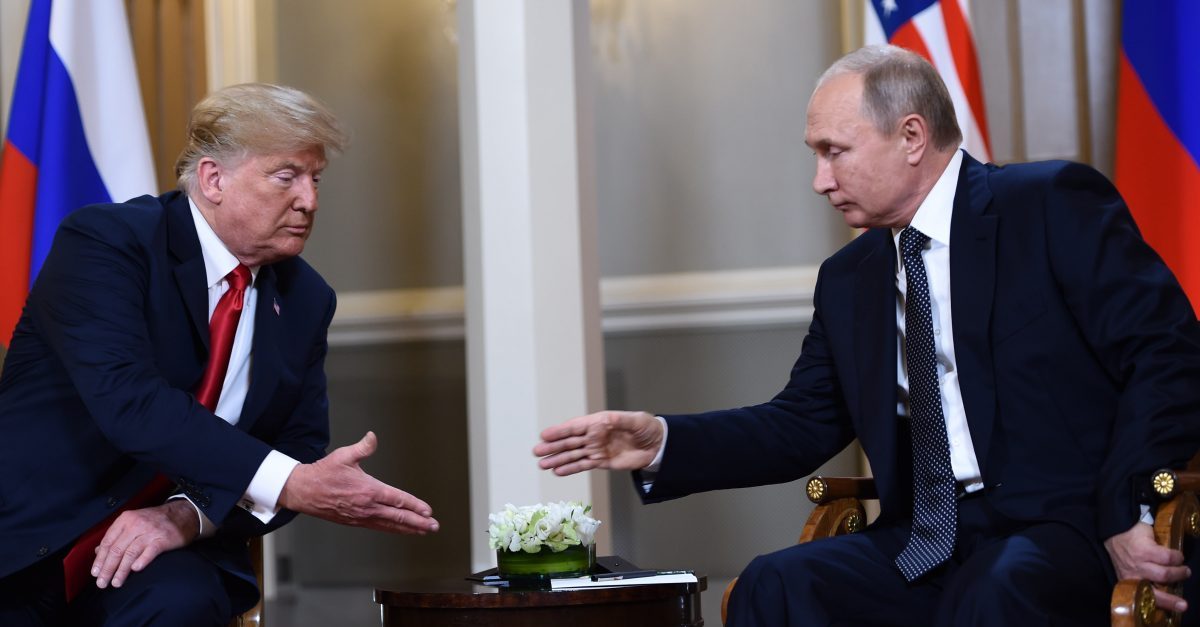 The soccer ball gifted to U.S. President Donald Trump by Russian Federation President Vladimir Putin apparently contains a computer chip which can transmit information to cellular phones in the ball's vicinity.
According to Bloomberg News, photographs of the soccer ball show a logo advertising the presence of a near-field communication (NFC) tag. This technology was included in the 2018 FIFA World Cup ball which was manufactured by Adidas.
Per the product description on Adidas' website:
Paying tribute to the host nation of the 2018 FIFA World Cup™, this soccer ball draws inspiration from Russia's urban landscapes. Its pixelated design mimics the look of a spinning adidas Telstar, the instantly iconic black-and-white soccer ball of the 1970 tournament. This thermally bonded ball has a seamless surface for pinpoint accuracy and low water absorption. The first of its kind, it's embedded with an NFC chip that lets you unlock exclusive content on your smartphone.
Questions posed by Bloomberg to Adidas regarding a potential Russian cyberattack caused by the ball went unanswered.
Bloomberg did note, however, that NFC technology could be used to initiate an attack on a cellphone. That's because such an incident has happened at least once before. From the story:
In 2015, Forbes reported that an engineer used an NFC chip to send a nearby Android phone a request to open a link that — if the user agreed to open it — installed a malicious file that took over the phone.
Similar concerns regarding the Putin-given ball are likely unfounded. White House Press Secretary Sarah Sanders said, "The security screening process that is done for all gifts was done for the soccer ball. We are not going to comment further on security procedures."
It's unknown whether the ball was modified–or if the ball ever actually contained the NFC chip in the first place.
Currently on sale for $83, the ball generally retails for $124.
[image via BRENDAN SMIALOWSKI/AFP/Getty Images]
Follow Colin Kalmbacher on Twitter: @colinkalmbacher
Have a tip we should know? [email protected]