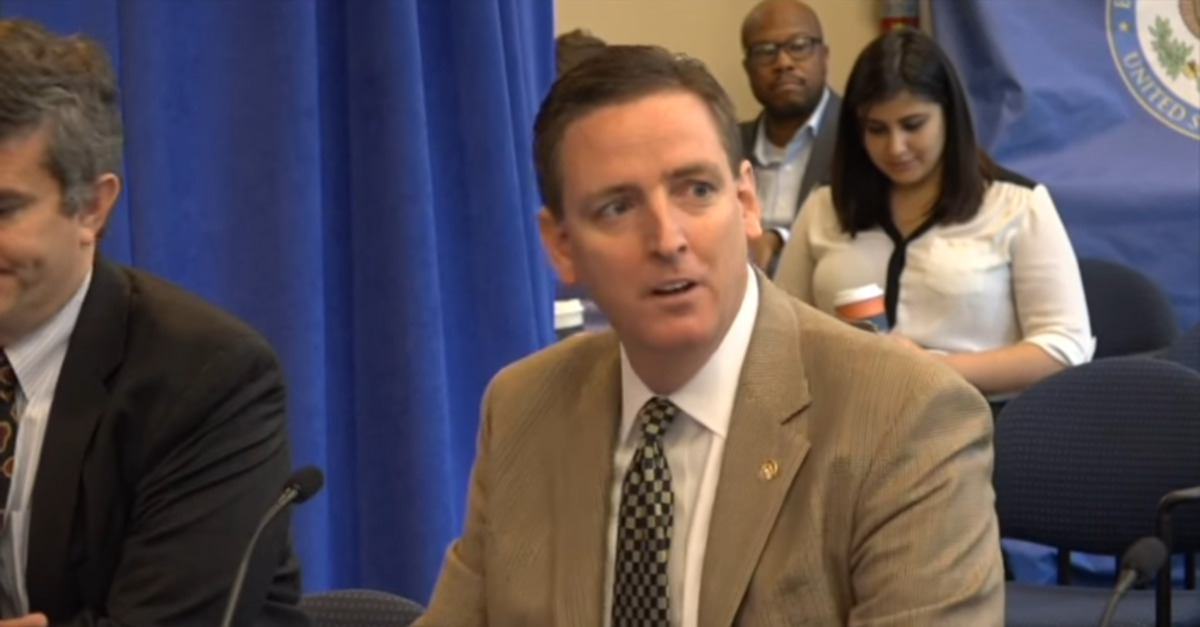 Michael Ertel was recently appointed Florida's Secretary of State by Republican Governor Ron DeSantis. He lasted less than a month in that position. Ertel resigned Thursday afternoon just hours after photographs surfaced of him wearing blackface at a Halloween party in 2005.
Ertel's costume also featured fake breasts and a bandana. His t-shirt identified him as a "Katrina victim"–just two months after the destructive Category 5 hurricane had all but laid waste to the Big Easy's Ninth Ward and created thousands of refugees.
Ron DeSantis's Secretary of State, on his 16th day in office, has resigned after photos emerge of him dressed for Halloween in blackface as a Hurricane Katrina victim https://t.co/yI9ZuYLVW9

— Timothy Burke (@bubbaprog) January 24, 2019
At the time of the blackface incident, Ertel was 35 years old. He had been serving as the Supervisor of Elections for Seminole County, Florida for a full eight months before then–a position he was appointed to by then-governor Jeb Bush in February of that year.
Images of Ertel in blackface were obtained by The Tallahassee Democrat last week and then texted to Ertel by the outlet.
According to reporter Jeffrey Schweers, Ertel simply texted back:
There's nothing I can say.
The Democrat then provided those same photos to DeSantis' office on Thursday morning. A few hours later, the governor issued a statement regarding his appointee's controversial and racist costume.
"The governor accepted Secretary Ertel's resignation," the governor's office said.
Ertel was appointed to head Florida's statewide election agency on December 28 after the outgoing secretary of state Ken Detzner resigned from a six-year stint in that role. Ertel was briefly elevated from his long tenure in Seminole County.
"As Supervisor of Elections in Seminole County–where he has been elected by the voters four times–Mike has proven that he is vastly qualified to lead the state's elections efforts as Secretary of State, and will strive to ensure that Florida voters are confident that elections continue to be fair and accurate," DeSantis said at the time of Ertel's flash in the pan promotion. "I look forward to Mike bringing not only his elections expertise to Florida voters, but his steady leadership to the Department of State." 
In 2006, he ran for the seat he was appointed to and won handily–dispatching Democratic Party activist Marian Williams by nearly 60 percent. During that year he also participated in election monitoring during New Orleans' mayoral election.
Erteal ran unopposed for the Seminole County seat in 2008, 2012 and 2016. In 2012, he even bucked his party a bit by complaining about then-governor Rick Scott's ongoing purges of Sunshine State voter rolls.
"[T]he list [of purged voters] should have been vetted quite a bit more before they were given to us," Ertel said at the time.
Ertel, considered something of a champion of voting rights in Florida, was also once given a Martin Luther King, Jr. award by the City of Longwood, Florida for his efforts at registering voters.
An as-of-yet not updated Seminole County website notes:
Ertel has been awarded the Martin Luther King, Jr. award by the City of Longwood and was honored by the Seminole County Bar with their inaugural Thomas Jefferson Award. Orlando Life magazine has named him the region's best elected official.
[image via screengrab/U.S. Election Assistance Commission]
Have a tip we should know? [email protected]